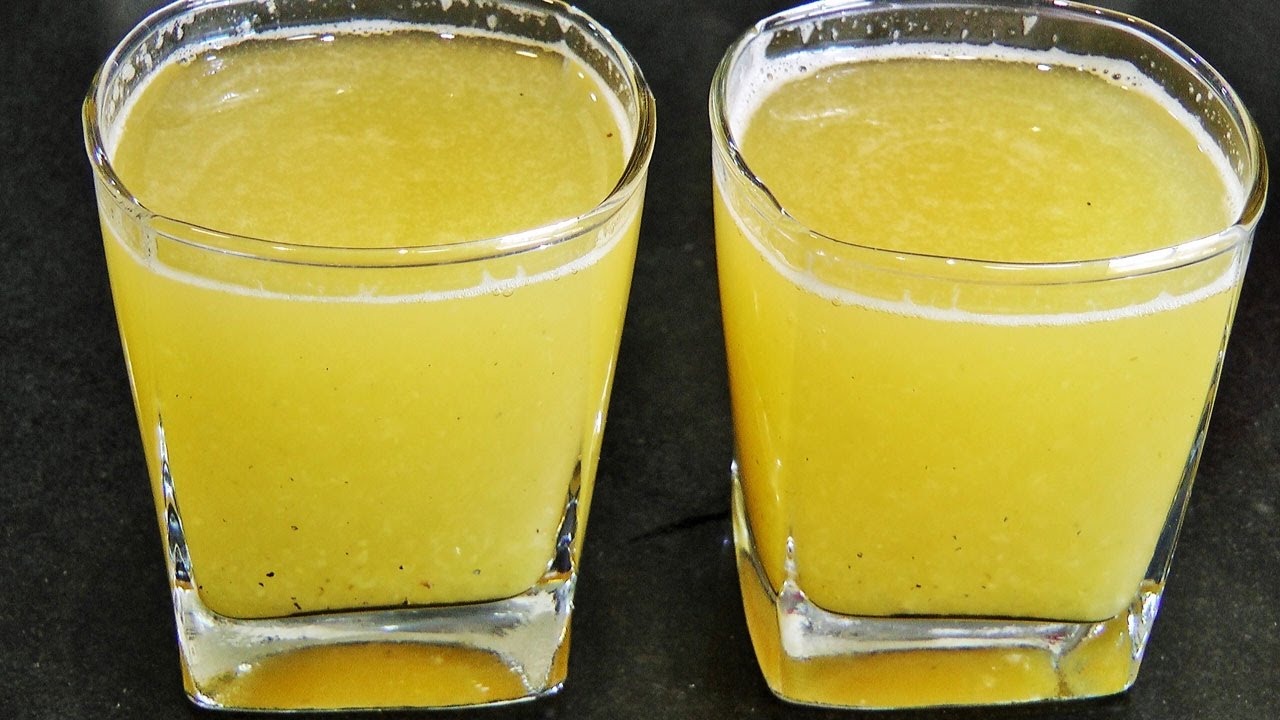 Please take a moment to like and subscribe
✿◕ ‿ ◕✿
Kairiche Panhe is a traditional Maharashtrian drink. Ad kairi or kachha aam is available in summer, this is summer special drink. After roaming around in hot summer day, this drink will help you to cool down and refresh you. This is very simple and easy authentic recipe.
Ingredients:
• 3 Kairi (Kachha Aam)
• 1 cup Kairi pulp
• 1 cup Jaggery / Gudh
• 1/2 tsp Cardamom powder
• Ice
• 2 tsp Kairi pulp
• Water
Method:
• For making pulp for kairiche panhe, take cooker.
• Add 1" water and place a dish at the bottom.
• Take 3 kairi and wash them really good. Kairi should not be soft.
Place them in cooker pot.
• Close cooker and cook kairi on medium heat until 2 whistles.
• Peel the cooked kairi and put them into a dish.
• Mash it and take out pulp. Take 1 cup kairi pulp.
• Blend jiggery pieces into blender pot and mix it with kairi pulp.
• Add 1 cup blended jiggery in it. Beat the mixture really good with
hand.
• Jaggery must be mixed well with kairi pulp.
• You can use blender for mixing jaggery and kairi pulp.
• Add cardamom powder and mix well.
• Take a bowl and place a strainer on it.
• Strain the pulp and jaggery mixture through it so that any lumps
of jaggery will be removed.
• Pulp for panhe is already. You can store this pulp in airtight glass
bottle in freeze.
• For making kairi panhe, take panhe pulp.
• Add ice if you want and add water.
• Mix well and serve. Kairi panhe is already.
Tip:
• If you use blender for mixing kairi pulp and jaggery, it will lose it's
nice yellow color. So try to beat the mixture with hand only.
Click for detail Recipe – –
recipe/marathi-video-recipes
Visit Facebook page –
For Business inquiries please email us on madhurasrecipe@gmail.com
Subscribe to my other channels
Madharasrecipe
MadhuraRecipe Style
MadhuraRecipe Quick
Enjoy my other videos
कुळीथ पिठले | Kulith Pithale Recipe | madhurasRecipe | Kulith Pithi
सांडगी मिर्ची | Sandgi Mirchi Recipe | Stuffed Dried Chili | madhurasrecipe
शेवगा बटाटा रस्सा | Shevaga Batata Bhaji | Aloo Drumsticks Curry | madhurasrecipe
शेवग्याच्या शेंगांची आमटी | Shevagyachi Shenganchi Amti | Drumsticks Dal | madhurasrecipe
Bajarichi Khichdi
Moravala
करडई ची भाजी | Kardai Bhaji | Karadai chi takatali patal bhaji | madhurasrecipe
कुरकुरीत कांदा भजी | Kanda Bhaji | Crispy Onion Pakoda | Madhurasrecipe
बाजरीची भाकरी | Bajarichi Bhakri | Pearl Millet Bhakari | madhurasrecipe
मठ्ठा | Mattha | Masala Butter Milk by madhurasRecipe