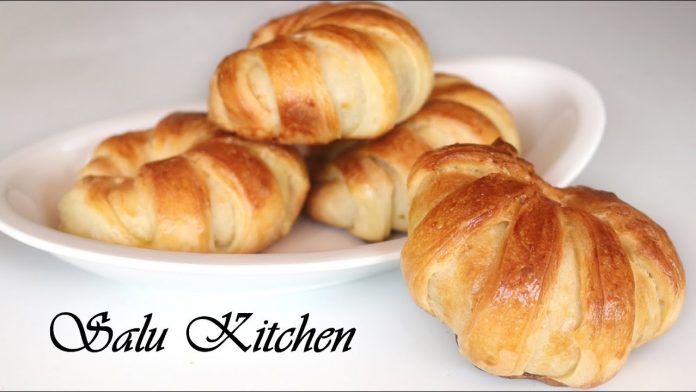 A croissant is a buttery, flaky pastry named for its crescent shape. Croissants are made of a layered yeast-leavened dough. The dough is layered with butter, rolled and folded several times in succession. Here the meat variant is tried out. It is very tasty, and certainly a treat in the mouth.
For Filling:
(use the same filling as in the link)
This is a simple yet delicious recipe that can be prepared even by beginners.
Do try out, and let us know your feedback. Like and share and help us grow.
1. 2 cups all-purpose flour
(for those who do not prefer all-purpose flour may use wheat flour)
2. 1 tsp yeast
3. 3 tsp sugar
4. salt as required
5. mix well
6. make a well in the flour and add an egg
(for those who do not consume egg, may avoid)
7. 50 g butter
(oil may be used instead, but butter is preferred)
8. mix well with hand
9. any filling can be used with this croissant
10. knead to required state as shown
11. ~¾ cup lukewarm milk
(do not add milk as a whole, add it in parts until the required structure is obtained)
12. knead well; the harder the dough is kneaded, the softer it becomes; apply good force
13. knead well for 5 minutes until is the required structure of dough
14. close and keep aside for 30 minutes
15. after 30 minutes, open and knead again for 1 minute
16. roll out the dough and divide into small balls
17. use a rolling pin and roll the balls into rectangular sheets
18. place filling on one section, as shown
19. cut slits on the other section, do not cut through edges
20. fold and press the edges roll and fold as shown to get a croissant shape
to prepare egg wash:
1. take an egg yolk
2. add some milk and mix well
To bake:
1. preheat oven at 180°C for 5 minutes
2. coat the croissants with egg mix
3. bake in oven at 180°C for 25 minutes
4. allow to cool well before serving
*The video is in Malayalam, but English subtitles are provided for all important instructions.*
salu kitchen, quick, recipe, tasty, yummy, how to, easy, puff pastry, how to cook, how to make croissants, puff pastry recipe, croissant (dish), salu kitchen recipes, how to make, bread pudding, bread filling, meat, mutton, beef, chicken, veg, vegetarian, egg, puffs, puff pastry indian, food fusion recipes, chicken bread filling, chicken bread recipe, chicken bread, how to make chicken bread, bread recipe, malayalam, video, subtitle, crescent rolls, chicken recipes, ramadan, ramzan, iftar, sehri