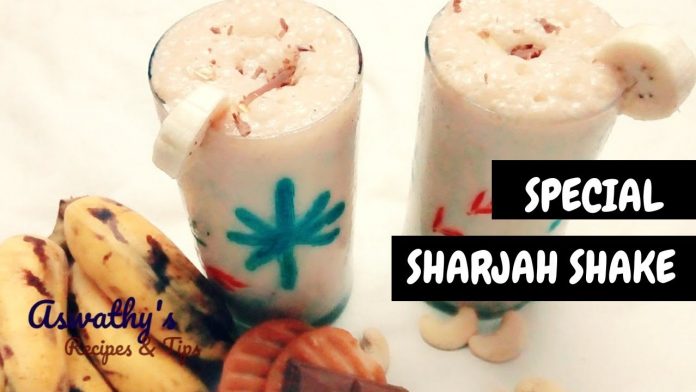 Subscribe this channel
All Recipes are in Malyalam with English Subtitle
#aswathysrecipesandtips #sharjahshake #milkshakes
When thinking about shake recipes, first recipe coming on the mind is sharjah. There are a variety of sharjah shakes available. Here's the recipe of yummy sharjah shake that ca be prepared easily at home.
Try this and comment your feedback.
Ingredients
Small banana – 3
Biscuit – 2
Cashew nut – 6
Peanut – 2 tablespoon
Horlicks – 2 tablespoon
Sugar – 2 tablespoon
Chocolate – 4 pieces
Milk – 500 ml
Watch Other Recipes
നബി ദിനം സ്പെഷ്യൽ ഇറച്ചി ചോറ് | Erachi Choru | Meat Rice –
പൈൻ ആപ്പിൾ റൈസ് കഴിച്ചിട്ടുണ്ടോ? | Pineapple Rice For vegetarian and Non-vegetarians –
അരിപൊടി കൊണ്ട് യീസ്റ്റ് ഉപയോഗിക്കാതെ സോഫ്റ്റ് അപ്പം | No Soaking No Yeast Appam –
കേരള സ്റ്റൈലിൽ ഒരു സിംപിൾ മുട്ട കറി | Easy Kerala Style Egg Curry –
വെറും 3 ചേരുവകൾ കൊണ്ട് അടിപൊളി കോഫി ഐസ്ക്രീം | Children's Day Special Coffee Ice cream –
If you are interested in trying new recipes, please support and subscribe to my channel..
Everything you watch on this video is created by me . Please do not use any photos or videos without asking my permission @ achualaka@gmail.com
FOLLOW ME HERE :
Facebook:
Pinterest:
Blog :
Twitter :
Tumblr :