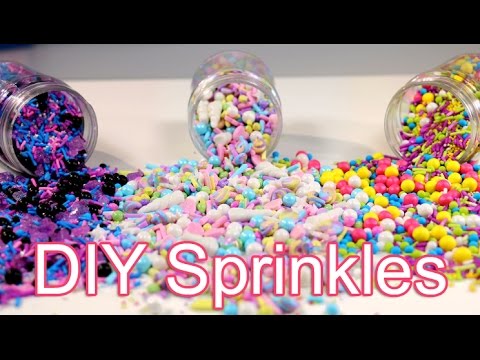 DIY Sprinkles three ways!!
TOP 10 CRAZY CAKES –
SUBSCRIBE HERE:
Signup for our mailing list and join The Icing Squad!!
-Get notified when we go LIVE
-Early access to videos
-Be the first to know about contests, updates and meet & greets!
Learn how to DIY Galaxy, Unicorn and celebration sprinkles!! These are perfect for any occasion and completely customizable!
Royal Icing Recipe!
-3oz Aqua Faba
-1tsp Vanilla extract
-1 tsp butter flavour
-4 cups icing sugar
Whip aqua faba for 3 min white fluffy. Add in the rest of the ingredients and whip for 5-7 min. Add water for a thinner consistency.
FOLLOW ME:
Facebook-
Instagram- www.instagram.com/theicingartist.laurie
Website- www.theicingartist.com
Useful links!
For full printable recipes go to
Vanilla pound cake recipe –
Buttercream Icing/frosting recipe –
Buttercream icing step by step video –
How to cover a cake in fondant video –
How to smooth ice a perfect buttercream cake video –
THE PRODUCTS I USE!!!
ICING TOOLS
Offset Icing Spatula –
Piping Tips –
Disposable Piping Bags –
AmeriColor Food Colouring Set –
FONDANT TOOLS
Circle Cutter Set –
Fondant –
Fondant Smoother –
Large 20″ Fondant Rolling Pin –
Small 9″ Fondant Rolling Pin –
Large Fondant Basics, Tools and Cutter Set –
OTHER GREAT PRODUCTS
8″ Sphere Cake Pan –
Battery Powered Turntable –
Airbrush Machine –
#NoCakeLimits
I love seeing pictures of your cakes and creations! Tag me on social media @theicingartist.laurie or email me at theicingartist@hotmail.com
Music Credits:
Nicolai Heidlas Music – Drive
'DRIVE' – Fresh Upbeat Pop Background Music
Nicolai Heidlas Music – Sunny Afternoon
Sunny Afternoon – Upbeat Ukulele Background Music
Nicolai Heidlas Music – Paint It
[142 BPM 'PAINT IT!' – Free Upbeat Pop Background
Nicolai Heidlas Music – Morning Sun
Morning Sun – Free Happy Background Music
Nicolai Heidlas Music – Pacific Sun
'PACIFIC SUN' – Free Happy Ukulele Background Music
by Nicolai Heidlas Music is licensed under a Creative Commons License.