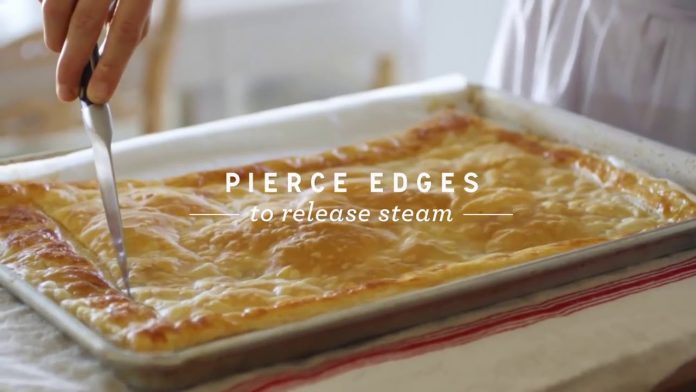 ?lueberry ?ream ?heese ?uff ?astry ?ecipe || ?IN ?ATS
?lueberry ?ream ?heese ?uff ?astry ?ecipe || ?IN ?ATS
Hungry for more? Savor tasty KIN EATS videos & recipes here: See the full recipe by clicking on "Show more" below!
If you love tangy blueberries, luscious cream cheese and warm, flaky puff pastry…you won't want to miss this yummy dessert recipe from Louise Leonard. It would even make a good breakfast if you're feeling the need to indulge!
————————————–
Blueberry Lemon and Cream Cheese Pastries
Serves 6
1 pkg puff pasty, thawed
1 egg, beaten
4 tbsp sugar
1 pkg cream cheese, softened
½ cup heavy cream
1 tsp vanilla extract
¼ cup confectioner's sugar
2 pints blueberries
1 lemon, juice and zest
Preheat the oven to 375 degrees.
On a floured surface, roll the puff pastry into a long rectangle, about 10×14. Place on a sheet pan lined with parchment paper. Score a 1″ border around the outside of the pastry being careful not to cut all the way through. Brush the border with egg and sprinkle it with half of the sugar. Bake until it puffs up and is golden brown, about 20 minutes.
Meanwhile, place the blueberries, lemon juice and zest and the remaining sugar in a small pot. Cook over medium heat just to break down the blueberries slightly and for the sugar to melt, about 5 minutes. Remove from the heat and cool.
While the blueberries and pastry are both cooking, mix together the cream cheese, heavy cream, vanilla. Sift in the confectioner's sugar and set aside.
When the puff pastry is done, remove from the oven and immediately rescore around the edge and lightly press down the inside of the pastry to flatten it. Allow it to cool.
To assemble the pastry, spread the cream cheese onto the baked tart within the border and top with the blueberries. Voila!
————————————–
SUBSCRIBE on YouTube (Never miss a video!)