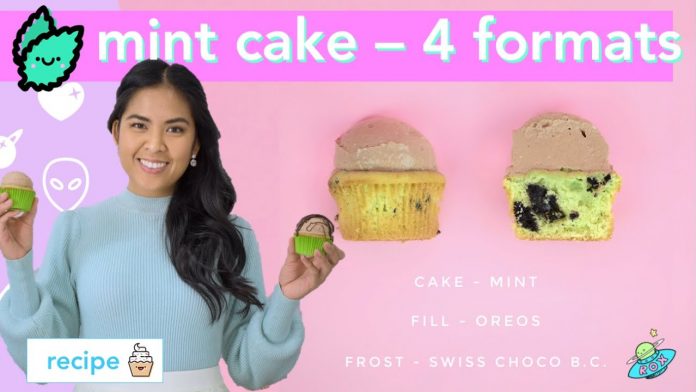 How to make a mint cake step by step from scratch! I feature a cake with mini chocolate chips and one with Oreos. This is part of my 1 cake 4 formats recipe series so it includes a round cake, sheet cake, cupcakes and mini cupcakes #mintcake #cakerecipe #baking
Woot woot! New video every Saturday! You can subscribe here www.youtube.com/c/roxstarbakes
⭐Follow RoxStarBakes ⭐ Tag @roxstarbakes so I can see and share your projects! ⭐
YT:
IG:
FB:
TW:
My shop:
Tutorial demonstrated, filmed and edited by Roxie Star. This is NOT a sponsored video.
You might like my Eggs + Bacon Breakfast Sheet Cake decorating video that uses this cake if you're looking for #decoratingideas featuring ぐでたま Gudetama:
Goes perfect with!
✨My Swiss Meringue Buttercream Recipe:
Other recipes you might like!
✨Oreo cake recipe
✨Vanilla cake recipe
✨Chocolate cake recipe
✨Lemon cake recipe
✨Funfetti cake recipe
Things you will need for this project:
✨Sugar or ✨Sugar
✨Scooper
✨Scooper
✨Parchment paper
✨Cupcake pan and liners
✨Cake pan
✨ Sheet cake pan
✨Mixer
✨Amazon Prime Discount
✨Amazon Pantry (30 day free)
✨Amazon Fresh (free trial)
My favorite kitchen gear:
✨mixer
✨mixer
✨parchment liners
✨spray bottles
My YouTube tech gear:
✨Camera
✨Tripod
✨Lights
✨Mic
BTW, I'm Roxie, my friends call me Rox ;). I've created this channel to share helpful tips, DIY recipes and step-by-step tutorial videos about sweets (cakes, cupcakes, mini cupcakes, breads, pastries, puddings, and more!). I especially love Kawaii projects. Welcome to RoxStarBakes!!!
Music – soundstripe
OG_AlterEgo
Low_OBOY
Tick_OBOY
Galaxy_AlterEgo
Superhero_AlterEgo