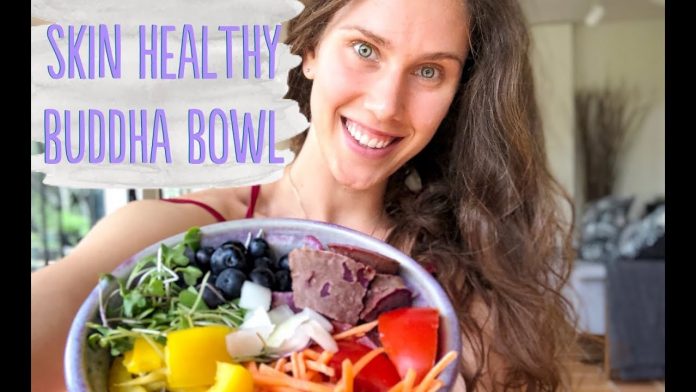 This is a recipe for my favorite Raw Vegan skin-nourishing rainbow buddha bowl, packed with tons of healthy proteins, antioxidants, and the science behind the #nutrition and benefits of each food, plus WHY these ingredients help your skin from the inside out! Subscribe & Hit the Bell Icon (and smash the like button!) for new videos on acne, beauty, diet, skin care, self-love, and healthy living! (It's free and helps me know what kinds of videos you want more of!) Join our Inspirational Beauty Community with the Hashtag #BeYOUTiful
This #rawvegan recipe has put together the best skin-loving ingredients to boost collagen, help manage acne, and repair skin. It's my favorite delicious, easy, plant based, dairy-free, soy free, and gluten free go-to meal! Its got all the best foods to fight acne and keep you healthy from the inside out 🙂
___
▷ You might like these other helpful, entertaining & inspiring videos from my Channel:
FOODS TO AVOID IF YOU HAVE ACNE →
HOW GOING VEGAN CHANGED MY SKIN →
RAW VEGAN MEAL IDEAS: WHAT I EAT IN A DAY →
Tag me on Instagram if you end up recreating this buddha bowl! xo
___
▷ Lets Follow Eachother On Social Media!!
For inspiring photos of my life + travels, check out INSTAGRAM →
To chat with me on live streams check out FACEBOOK →
For my 2 am thoughts and links to inspiring articles, check out TWITTER →
(I also have Pinterest, snapchat and a tumblr @Sincerelycass11!)
___
▷ This video is not sponsored or influenced by any brand 🙂 Having the opportunity to create and share enlightening content is another reason I'm so grateful for youtube as a platform, the opportunities life presents us, and your love and support as part of my youtube family!! In some cases, I post affiliate links that ultimately support the content provided. By no means should you ever feel obligated to use these links, but know that if you do purchase through any of them, you are contributing to spreading the message of positivity, self-love, and self care that is expressed on this channel. Your love, support, and involvement in this youtube family is very much appreciated. Thank you always!
___
You are beYoutiful inside and out; I love you!