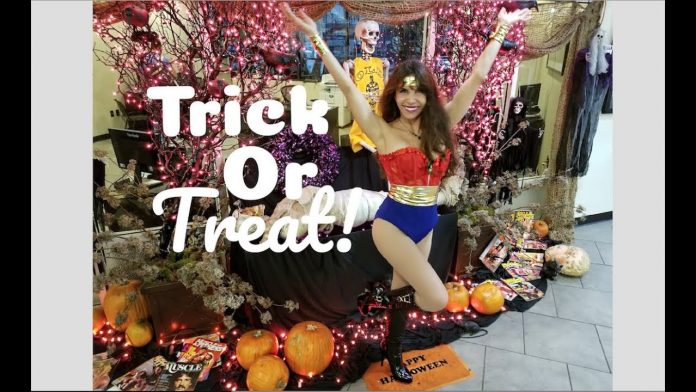 😘Let's Connect on Instagram😘
Hello my Beloveds!
Happy Halloween! I hope you have a very fun Halloween. But that doesn't mean you have to leave your healthy lifestyle behind!
So today I'm dressed up like Wonder Woman so that I can help you get into the Halloween Holiday Spirit! I am sharing with you 4 incredibly delicious and yummy RAW Vegan recipes!
Check out what Wonder Woman whipped up in the kitchen just for YOU!
Okay… let's get cooking!
And remember to Like, Subscribe, Share and HIT that notification BELL so you'll know exactly when I post my latest weekly video!
WE CAN DO THIS!👍🏽😄💪🏽
I Love You So Much!❤️😘
❤️CLICK HERE TO CHECK OUT MY "7 DAY RESET PROGRAM!"❤️
…
💖CLICK HERE TO GET MY BOOK💖
"Skinny Dipping in the Fountain of Youth"
🧡RECIPES:🧡
Pumpkin Seeds Recipe:
1 cup pumpkin seeds
4 tablespoons pumpkin spice
2 tablespoons of maple syrup
Instructions:
Clean, wash and dry the seeds.
Pour the Maple Syrup on them, Mix, Sprinkle with pumpkin spice and dehydrate overnight.
Pumpkin Spice Mocha Smoothie:
1 cup of almond milk
2 tablespoons pumpkin spice
2 tablespoons of maple syrup
1 tablespoon of cocoa powder
1 scoop of your favorite raw vegan vanilla protein powder
3-4 date rolls (optional if you like your smoothies sweeter)
Instructions:
Pour everything together on the blender and mix until you have the desired consistency.
Pumpkin Soup:
½ Teaspoon of cayenne pepper
½ teaspoon of salt
1 teaspoon of black grounded pepper
½ a pumpkin pie Pumpkin
1 ½ cups of water
1 celery stick
Instructions:
Pour everything into the Blendetec and blend at high speed (soup mode), for 4 minutes or until hot.
Season to taste and enjoy!
Pumpkin Pie Crust:
3 cups of dates
1 cup of almonds
½ cup of maple syrup
Instructions:
Put all the ingredients into a food processor and mix until the consistency resembles a thigh homogeneous paste.
You can also use the pumpkin spice date rolls we showed in the video
Pumpkin Pie Filling
2 cups pumpkin puree
2 cups raw cashews
1/4 cup raw almond milk
1/2 cup raw maple syrup
1/4 cup smashed date rolls (you can just use dates if you want)
2 tablespoons pumpkin spice
Instructions:
Blend all the ingredients together and pour into pie crust
freeze for 20-30 minutes and serve
♥♥SUBSCRIBE TO ME ON YOUTUBE♥♥ …
♥♥FOLLOW ME♥♥
BLOG –
INSTAGRAM –
SNAPCHAT – DrElizabethLive
FACEBOOK – …
TWITTER –
♥♥To get your own Blendtec Hi Speed Blender, go to:♥♥
…
USE THE Discount Code: DrElizabeth at checkout for FREE SHIPPING!
♥♥VIDEOGRAPHY/PHOTOGRAPHY CREDITS:♥♥
🎥📸Asis
www.Instagram.com/dudesimhere
♥MUSIC♥
"A While" Ikson
Royalty Free Music
AND
Mickael Fil de Jacques COVER of Michael Jackson's "Thriller"
💜CHECK OUT LAST WEEK'S VIDEO:💜
Halloween, scary, food, raw, raw vegan, vegan, soup, pumpkin, latte, mocha, pumpkin spice, pie, soup, delicious, wonder woman, wonder, woman, healthy, nutritious, delicious, beautiful, lifestyle