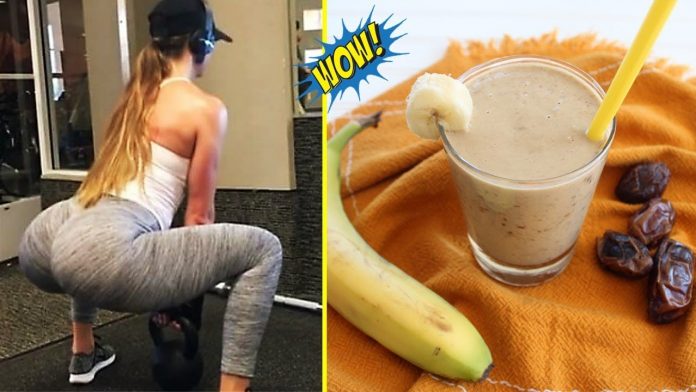 Watch out the homemade weight gainer shake 1200 calories to gain
weight super fast. This is easy to make at home and the result you get
is amazing! Subscribe:
#weightgain #proteinshakes #massgainer
If you are into gain weight very fast,
and trying different diet & foods.
This weight gainer shake,
will let you to achieve your goal very easily.
which consists of over 1200 calories.
If you consume this drink daily,
you will easily gain 10 pounds per week easily.
This mass gainer shake,
helps you u gain weight very fast
and its delicious taste will soothe your mind.
Watch the full video,
and see how to make this step by step.
1 Glass Whole Milk. (150 Calories)
1/2 Cup Mixed Nuts. (200 Calories)
1 cup Oats. (150 Calories)
2 Bananas. (210 Calories)
3 Tablespoon Peanut Butter. (282 calories)
1 Scoop Cream. (207 calories)
& 2 Scoop whey protein. (54 Calories)
Total = 1253 Calories.
Drink this daily for a week in breakfast or between meals.
This will start building muscle mass in your body.
========================================
Royalty Free Music :
www.bensound.com
Royalty Free Image :
www.pixabay.com
www.wikimedia.org
www.publicdomainpictures.net
www.flickr.com
=======================================
|| Subscribe Our Channel ||
At Easy Life, we want to give you simplified and very easy health and beauty advice. If you are a new viewer and want to get started on your health journey today, please subscribe our channel. Easy Life was established in November 2016 with the intention to provide very easy and natural health and nutrition advice that keeps you healthy and fit. We wish our advice can be followed by regular people with busy lives and help them keep healthy forever 🙂
Follow Us Via Social Media –
Google+ – …
Facebook –
Twitter –
=========================================
disclaimer:
The advice, materials and the information described on Easy Life channel are provided for general and educational purposes only and do not constitute any legal, medical or other professional advice on any subject matter. None of the information on our videos can be a substitute for a diagnosis and treatment by a health professional. Always ask your physician or other qualified health provider prior to starting any new diet or treatment and any inquiry you may have regarding a medical condition. If you have or suspect that you have a medical problem, immediately contact your health care provider.