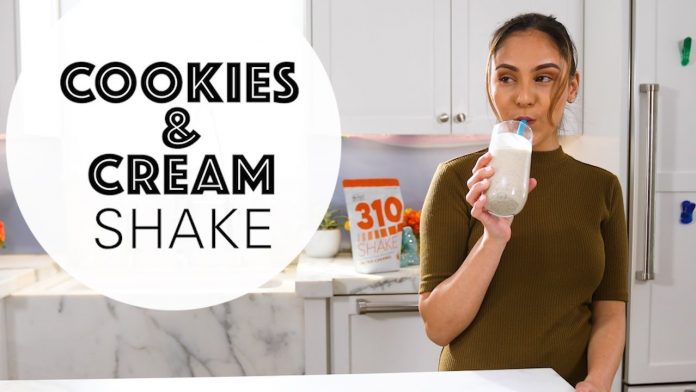 Are you craving this delectable ice cream flavor? Fulfill your urge with this healthy shake using 310 Salted Caramel Shake & Vanilla Chai Shake:
Who says you can't indulge and support your health at the same time? You can with 310 Nutrition Shakes. Whether you're seeking a weight loss shake or meal replacement shake that makes healthy living easier, we've got you covered. Using our sumptuous shakes in flavors like Salted Caramel and Vanilla Chai, you can make a variety of healthy smoothie recipes.
And with only a handful of additional wholesome ingredients, you can make this 310 Cookies and Cream Shake! This decadent recipe uses oats, sunbutter, chia seeds, cottage cheese and more, along with 310 Shake powders. Watch the video and start making this healthy indulgence today!
New to 310 Shakes? These satisfying drinks can be used as tasty meals or snacks throughout your day and will both fill you up and give you energy to reach your goals. With only 90 calories per serving, they easily fit into your healthy weight loss plan; plus, they contain ingredients that help boost your metabolism, crush cravings and more. Learn more and try 310 Shakes today:
Looking for more 310 Salted Caramel and Vanilla Chai Recipes? Visit the 310 Recipes page for tons of ideas!
Also check out these social media channels for more recipes to support healthy weight loss and your healthy diet:
310 Nutrition Facebook Community –
310 Nutrition Instagram Page –
310 Nutrition 310 Recipes Instagram Page –