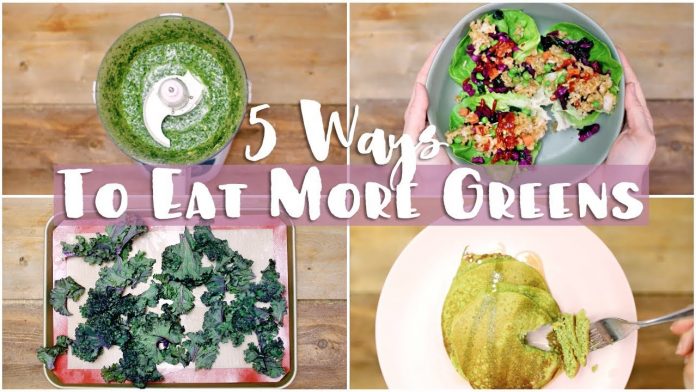 Subscribe to my channel here ↠
Sign up to my Newsletter here ↠
Shop my Merch here ↠
Recipes Mentioned:
1. Pesto: (I just swapped the spinach with kale)
2. Smoothie: (here are some green smoothie recipes to get you started!)
3. Kale Chips:
Pre-heat oven to 350F.
Wash, dry and rip up kale leaves and removing from stem.
Spread out kale onto a baking sheet lined with parchment paper.
Massage 1 tbsp olive oil and sprinkle on 1 tsp garlic powder, 1/2 tsp sea salt, 1/4 tsp black pepper and 1 tbsp nutritional yeast.
Bake for 15 min, tossing half way through.
4. Tacos: (here is a yummy fish taco recipe you could use with lettuce cups)
5. Pancakes: (I just used a blender to mix up ingredients and added 2 cups of fresh baby spinach)
More green recipes:
Green Mac & Cheese:
5 Min Green Detox Juice:
Tofu Collard Green Wrap:
______________________
Camera & Equipment I use to film my videos:
Main Cam:
Lens:
Main Tripod:
Vlog Tripod:
Microphone:
Lights:
Light Stands:
Hard Drive:
Other Places You Can Find Me 🙂
Instagram •
Twitter •
Snapchat • urhealthnut
Facebook •
My Blog •
My Shop:
PO BOX
Nikole Goncalves
140 Holland St W
PO Box 13055
Bradford, ON
Canada
L3Z 2Y5
Travelling anywhere?
Use my UBER Coupon: nikkyg42ue
Hey HealthNuts! I'm Nikole and welcome to the #healthnutfam 🙂 On my channel I talk about all things Food, health, lifestyle, Food, oh and did I mention food? I post 2-3 times a week on my channel. Recipe Mondays, Wellness Wednesdays and Vlog Fridays. I create videos like: What I Eat in a Day, Meal Prep With Me, Healthy Grocery Hauls, Healthy Recipes, My Morning Routine, Day in the Life and MORE!
Most Popular Videos ↠
What I Eat in a Day at Work •
My Spring Cleaning Routine •
Meal Prep for Beginners •
5 Bento Box Lunch recipes•
3 Healthy Smoothie Recipes •
My Fitness Morning Routine:
*This video is not sponsored. All opinions expressed are my own. I sometimes receive products for free from brands for consideration but will disclose when videos are sponsored and I am getting paid to talk about the brand/products mentioned. Thank you for support.
Hugs + Smoothies,
Nikole xo