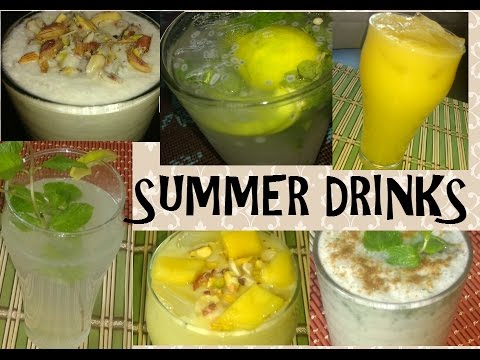 Easy Summer Drinks with Mango|Mango lassi|Mango Frooti|Easy Summer Drinks with Lemon or Lime|Lime Soda|Sweet Lime Soda|Kulukki Sarbath |Kerala Summer drink kulukki Sarbath|Easy Summer Drinks with Dahi|Easy Summer Drinks with Yogurt|Easy Summer Drinks with Curd|Punjabi Sweet lassi|Sweet lassi|Masal Chaas|masala Chach|healthy summer drink recipe with mango|healthy summer drink recipe with Lemon,lime|healthy summer drink recipe with Yogurt,Curd Recipes|Curd Recipe|Curd Summer recipes|Yogurt Summer Recipes|Dahi summer recipes|
Diy Easy Summer Drink Ideas|
Mago lassi main ingredients Dahi,Ripe mangos,Sugar,Cardamom Powder,Milk.
Mago Frooti main ingredients Ripe mango ,Raw mango ,Sugar
Mangoes ratio for mango frooti is 2 :1 (2 Ripe mangoes: 1 raw mango)
Sweet lime Soda main ingredients Lemon Juice,Soda,Sugar
Any kind of soda 7 up,Sprite, Limca,Kinely etc can be used.
Kulukki Sarbath main ingredients Basil seeds or Sabja seeds or Falooda seeds ,Lemon Juice,mint leaves,green chilli.
Masala butter milk main ingredients Dahi /Curd/Yogurt ,Coriander leaves,mint leaves,roasted cumin powder,black salt,white salt.
Sweet lassi main ingredients Dahi,,Sugar,Cardamom Powder,Milk.
Summer Body Cooler Recipes with Sabja seeds|Summer Cooler recipes with basil seeds|Summer Cooler Recipes with Falooda seeds|Sabja drink recipe|Sabja drink kulukki sarbath|Basil seeds reciep kulukki sarbath|Sabja cooler drink|Yogurt smoothi recipes| Differnt summer drinks |different summer recipes|
Mango Lassi| Mango Frooti Recipe|Sweet Lime Soda Recipe|Lime Soda recipe| Kulukki Sarbath|Kerala Summer Drink recipes|Kerala S Kulukkki Sarbath Recipe|Kerala Style Lemonade Recipe|Lemonade Recipe|Kerala Style Shaken Lemonade recipe|Masala Butter milk Recipe|Masala Chaas recipe|Masala Chach Recipe|Masala Majjiga recipe|Spiced Buttermilk Recipe|Sweet lassi Recipe|Punjabi Sweet lassi Recipe|How to make lassi recipe|How to make punjabi Sweet lassi|Salt lassi|Namkeen lassi recipe|how to make salt lassi Recipe|Sweet lime Soda|Lime soda| Mango Frooti|Mango Lassi Recipe|Mango Recipes|Mango Drinks Recipes|Summer Drinks With Mango|How to make Mango lassi recipe|How to make Mango Frooti recipe|How to make Sweet lime soda recipe|How to make Lime soda recipe|How to make Kulukki sarbath recipe|How to make Kerala style kulukki sarbath recipe|How to make Kerala style lemonade recipe|How to make masala Chaas recipe|How to make masala Chach recipe|How to make Buttermilk|How to make masala butter milk|
Indian Mango Drinks recipes|Indian Lime Drinks recipes|Indian Yogurt Drinks recipes|Quick Summer Recipes,Easy Summer Recipes,Refreshing Summer Recipes|Quick Summer Cold Drink Recipes,Easy Summer Cold Drink Recipes,Refreshing Summer Cold Drink Recipes|Summer Cold Drink Recipes|Mango Summer Drinks |Lime Summer Drinks|Curd Summer Recipes|Mango Summer Recipes|Lime Summer Recipes|Curd Summer Recipes|Yogurt Summer recipes|Dahi Summer Recipes|
Some other summer Drinks|Summer Milk shakes ,banana Musk melon milk shake | Summer Milk shakes Pomegranate milk shake|Water melon Cooler|Water melon Slush|Water melon |Lemonade|Water melon Smoothi| Water melon Milk Shake|Water melon juice| Summer cooler drink Cucumber Lemonade|Cucumber Lemonade recipe|Dry fruit milk shake|Strawberry milk shake |fruite milk shake recipes| Kachhe aam drink|AAm panna recipe|Summer drink AAm panna recipe| Summer drink Raw mango drink|Aam ras recipe |Summer drink recipe Aam ras|Jal jeera recipe|summer recipes jal jeera|