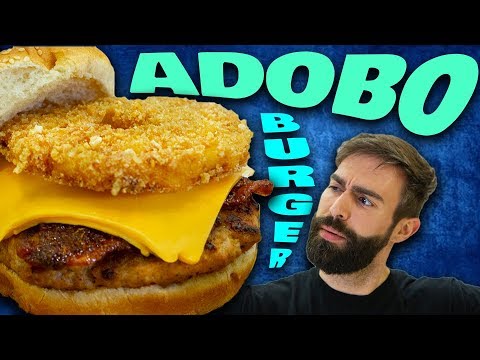 Let Ameer teach you how to make a Filipino/American fusion burger in the Adobo Burger!
Ingredients
Seasoning
1 Tbsp Paprika
2 Tbsp Salt
2 Tsp Black pepper
1 Tsp Onion powder
1 Tsp oregano
1 Tsp Cumin
1 Tsp Chili powder
1 Tsp Garlic powder
Sauce
1/4 Cup chili powder
1 1/4 Cup water
4 Garlic cloves
1/2 Tsp Cinnamon
1/2 Tsp Black pepper
1/2 Tsp cumin
1/2 Tsp Oregano
3 Tbsp Apple cider vinegar
1 Tsp salt
1 Pack of bacon
1/2 Lb Ground pork
4 Pineapple rings
2 Hamburger buns
1 Bag of pork grinds
1 Cup of flour
3 Eggs
Tools
1 Cutting Board
1 Chef knife
2 Mixing bowls
1 Food processor
1 Oven tray
1 Frying pan
1 Large pot
1 Metal slotted spoon
1 Spatula
Step 1
Mix together 1 Tbsp Paprika, 2 Tbsp Salt, 2 Tsp Black pepper, 1 Tsp Onion powder, 1 Tsp oregano, 1 Tsp Cumin, 1 Tsp Chili powder, 1 Tsp Garlic powder then sprinkle on bacon and cook in the oven at 375 degrees Fahrenheit for 15 minutes.
Step 2
Mix left over adobo seasoning with ground pork and form burger patties. Cook burgers on stove top In a frying pan in medium 3 minutes each side.
Step 3
In a food processor blend pork grinds into dust.
Step 4
Cover pineapple rings in flour then dip in egg wash and coat in pork grind dust. Then deep fry at 350 degrees Fahrenheit for 1 minute or less.
Step 5
Add 1/4 Cup chili powder, 1 1/4 Cup water, 4 Garlic cloves, 1/2 Tsp Cinnamon, 1/2 Tsp Black pepper, 1/2 Tsp cumin, 1/2 Tsp Oregano, 3 Tbsp Apple cider vinegar, 1 Tsp salt to a food processor and blend until a thick sauce.
Step 6
Build.
Check out Harley's Video Diaries –
#YoutubeCooking #Cooking #Food #Recipes
We have a YouTubeGaming Channel:
Follow the guys!
@harleyplays @chefatari @epicgrossguy @cooldan @itsmikesantos
LIKE/FAVORITE and SHARE for new meals every week!
Adobo Burger – Handle It