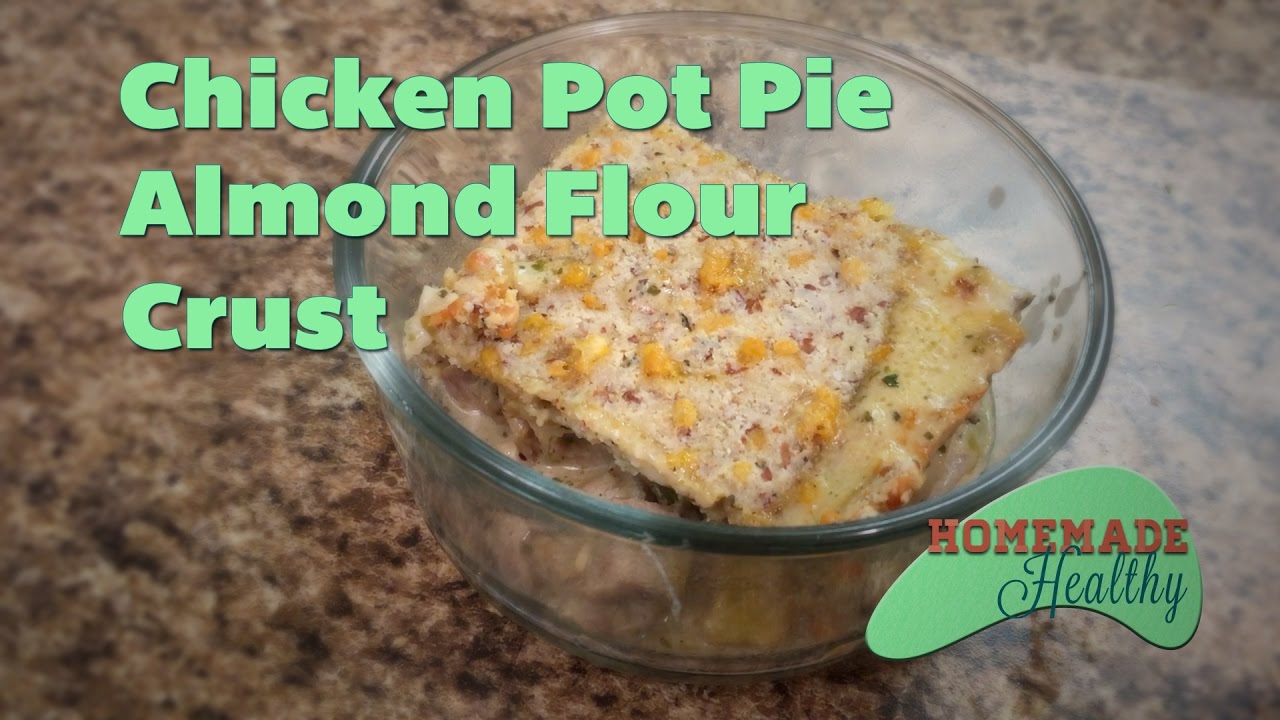 Another great almond flour recipe this time for the classic chicken pot pie. Perfect for low carb, keto, primal, and HFLC diets.
Makes 8 servings
Ingredients:
Filling:
2 lbs diced cooked chicken thighs or breast
1-2 cups chicken stock
2 tablespoons butter or olive oil
1 cup chopped celery
½ cup chopped onion
1 cup chopped carrots
1/2 cup heavy cream
2 teaspoons Italian seasoning
2 tsp poultry seasoning
Salt & Pepper, to taste
3/4 teaspoon xanthum gum
1 cup shredded cheddar cheese
Crust:
2 cups almond flour
4 tablespoons "cold" butter
2 large eggs
1 cup shredded sharp cheddar cheese
1 teaspoon Italian seasoning
1/2 teaspoon salt, or to taste
1/2 teaspoon freshly ground black pepper, or to taste
Directions:
1. Preheat oven to 350 degrees F. 
2. In a large pan, melt butter and saute celery, carrots and onion until tender; add chicken stock, Italian seasoning, salt and pepper to taste.
3. Bring stock and vegetable mixture to a light boil/simmer while stirring in the xanthum gum 1/2 at a time, whisking vigorously until well blended. Sprinkle the remaining 1/2 in a little at a time, whisking briskly until the broth begins to thicken.  Once it has thickened, add the cream and stir well. 
4. Stir in 1 cup cheddar cheese until melted. 
5. Add chicken to the sauce and mix well. Set aside.
6. In a medium bowl, add all crust ingredients and cut in with a pastry until crumbly and all flour is moistened and cheese is pulverized into the mixture.
7. Press dough together in a ball and place in between 2 sheets of parchment paper and flatten out lightly into the shape of the top of your casserole dish. 
8. Pour filling mixture into casserole dish.  Gently and carefully lift the dough and move it on top of the filling in the casserole.
9. Bake chicken pot pie in a 350 degree oven for 30 minutes until crust is golden brown and done.
Nutrition Facts
8 Servings
Amount Per Serving
• Calories 461.1
• Total Fat 38.2 g
• Saturated Fat 15.4 g
• Polyunsaturated Fat 1.3 g
• Monounsaturated Fat 4.9 g
• Cholesterol 155.8 mg
• Sodium 276.9 mg
• Potassium 217.3 mg
• Total Carbohydrate 9.7 g
• Dietary Fiber 3.6 g
• Sugars 1.8 g
• Protein 23.7 g
Product Links:
Pastry Cutter –