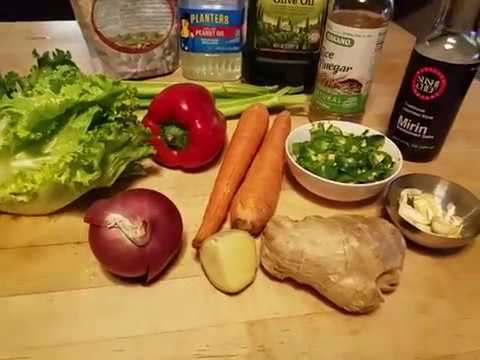 Great Asian versatile healthy vegan Salad which can be used as a main dish or mix with other food e.g. add slow cooked beans. Be creative: add peanuts, swap pumpkin, add more leaves. Fits a Raw Food, Vegan, Alkaline and Keto Diet. Shows you Slice Squeeze and Cut techniques. Starring: #Sushi Chef Mirin Sweetened Sake, #Nakano Natural Rice Vinegar, #Members Mark Organic Extra Virgin Olive Oil, #Planters Peanut Oil, #Harvested for you – Organic Pumpkin Seeds, Garlic, Ginger, Broccoli, Cabbage, #MaxiCut, Mandolin, Garlic Press, Big Bowl, Celery, Cumin, Cinnamon, morton bassett Chinese #5spice five spice. Improv Cooking no Recipe. Please comment for next dishes or tips.
FACEBOOK:
INSTAGRAM:
TWEET ME:
BUSINESS INQUIRIES: See About Section
•••••••••••••••••••••••••••••••••••••
PLEASE SUBSCRIBE, SHARE AND LIKE!!
Although we link to Manufacturers or Stores, there is no incentive from them. Just happy with their products.
Always Making Something
AlwaysMakingSomething
Always Makensomtin
AlwaysMakensomtin
Makensomtin
Allmakesomtin
Improvcook
Improv Cook
Omniapplicable
What the Vedge
WhattheVedge
Cookies
Amsters
Recipes
Recipisch
OmniApplicable
NoRecipe
Vegetarian
Simple Vegetarian
Vegetarian Breakfast
Vegetarian Lunch
Vegetarian Brunch
Vegetarian Dinner
Vegeterian Meal
Vegetarisch
Vegan
Simple Vegan
Vegan Breakfast
Vegan Lunch
Vegan Brunch
Vegan Dinner
Vegan Meal
Veganistisch
GoMakeIt
Go Make It
How To
How do I
What is the
AMS
Delish
Daily Salad
Keto
Alkaline
Raw Food
#AlwaysMakingSomething
#AlwaysMakensomtin
#Allmakesomtin
#Improvcook
#Omniapplicable
#WhattheVedge
#Cookies
#Amsters
#Recipes
#NoRecipe
#Recipisch
#Vegetarian
#SimpleVegetarian
#VegetarianBreakfast
#VegetarianLunch
#VegetarianBrunch
#VegetarianDinner
#VegetarianMeal
#Vegetarisch
#Vegan
#SimpleVegan
#VeganBreakfast
#VeganLunch
#VeganBrunch
#VeganDinner
#Veganmeal
#Veganistisch
#GoMakeIt
#AMS
#OmniApplicable
#Delish
#GoMakeIt
#HowTo
#HowdoI
#Whatisthe
#DailySalad
#Keto
#Alkaline
#RawFood