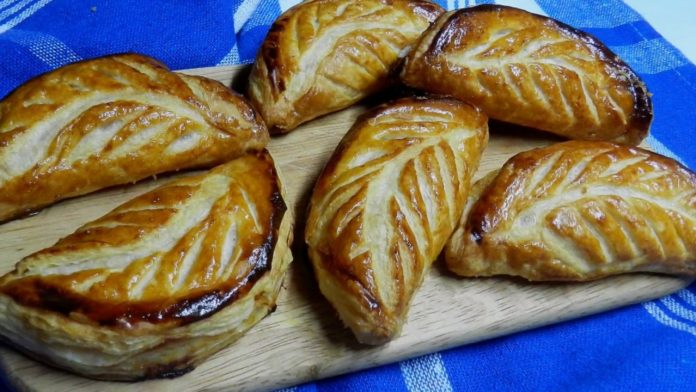 Today from my oven is Apple Mousse Pie or in Germany called Apfeltaschen. This apple pastry using puff pastry sheet, stuffed with delicious apple mousse then I make them into leaf pattern.
#apple #pastry
Please subscribe for more videos every week
I appreciate everyone for subscribe, leaves comments, likes and share. Click bell icon to get notification for new videos, if you haven't done so already
Apple Mousse : makes about 1 cup
3 small/2 medium apples, peeled, cubed
1 tablespoon lemon juice
3 tablespoons white granulated sugar
2 tablespoons water
1 teaspoon vanilla sugar
In a small saucepan, cook together apples, lemon juice, sugar. Stir.
Add water and vanilla sugar, bring to boil and stir occasionally.
Cover the saucepan, cook about 15 minutes until apples softened and the water reduced.
Use immersion blender to make smooth mousse or simply mash/crush into fine pieces.
Continue cooking until thickens. Let it cool.
To get yellow apple mousse, after peeled and cubed, cook immediately with lemon juice, don't let your apples getting brown.
Pastry :
One puff pastry sheet cut into circle using ring cutter or glass/mug.
Make 8 circles, and I use the remaining pastry dough to make another two pieces. All become 10 pieces. Arrange on baking tray.
Spoon 1 teaspoon full of apple mousse into one side of circle pastry dough.
Fold one side to close the filling. Press the edge.
Dab with beaten egg. Using a knife, make leaf pattern on the surface and try not to cut through.
Bake at 190°C for 20 – 25 minutes.
I like my pastry more brown on the outside. Feel free to choose the color of your pastry, if you prefer paler, you might bake less time than the recipe says. Oven may vary.
Choose your language :
On the right lower video, Click CC – setting (gear icon) – subtitles/CC – auto-translate – choose your language
Please help others by translating the caption of this video into your own language :
If you are interested, please take a moment to watch more videos here :
Baking Recipe :
Popular Videos :
Dessert Recipe :
Fried Food Recipe :
Home Cooking Recipe :
Pinterest :
Google+ : …
Email : [email protected]
Music :
Swoosh – YouTube Audio Library
Keith – Huma-Huma – YouTube Audio Library