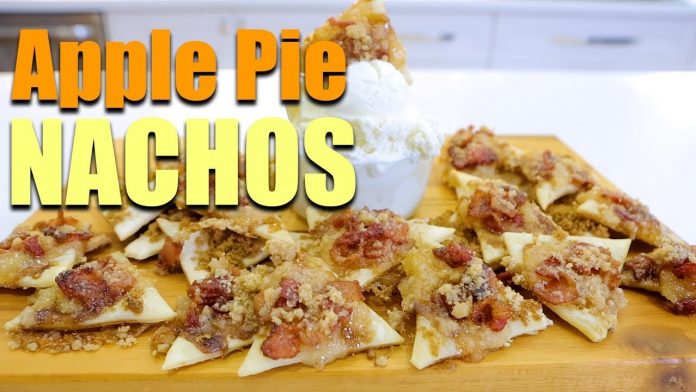 Chef Atari teaches you how to fuse together Apple Pie with Nachos to create…Apple Pie Nachos! And guess what, there's bacon in this recipe!
Ingredients
Chips
1 Roll of premade pie dough
1 Cup of brown sugar
2 Tbsp cinnamon
Crumble
1/2 Cup of butter
1 Cup of flour
1/3 Cup brown sugar
1 Tbsp sugar
1 Pack of bacon
4 Tbsp brown sugar
1 Tsp cinnamon
1 Can of apple pie filling
Chocolate syrup optional
Ice cream optional
Tools
1 Rolling pin
1 Cutting board
1 Chef knife
1 Oven tray
Parchment paper
2 Mixing bowls
1 Frying pan
1 Masher
Step 1
Unroll the pie dough then cut into triangle shapes like a tortilla chip and lay on an oven tray lined with parchment paper. Season the chips with 1 cup of brown sugar and 2 tbsp cinnamon then Bake in the oven at 425 degrees Fahrenheit for about 10 minutes.
Step 2
In a mixing bowl add 1/2 a cup of butter, 1 cup of flour, 1/3 cup of brown sugar and 1 Tbsp of sugar then begin to mix until the mixture becomes course and crumbly.
Step 3
Cut bacon into bit and cook on medium heat for 10 minutes. Once the bacon is cooked add 4 Tbsp brown sugar and 1 Tsp cinnamon and mix well.
Step 4
Place apple pie filling into a bowl and begin to mash with a masher into bits.
Step 5
Begin to garnish nachos with apple pie filling, candy bacon and pie crumble then bake on the over for an additional 10 minutes at 400 degrees Fahrenheit. Once baked let cool for 10 minutes.
Step 6 optional
Once baked add ice cream and chocolate sauce.
Check out Harley's Video Diaries –
We have a #YouTubeGaming Channel:
Follow the guys!
@harleyplays @chefatari @epicgrossguy @cooldan @itsmikesantos
LIKE/FAVORITE and SHARE for new meals every week!
Apple Pie Nachos – Handle It