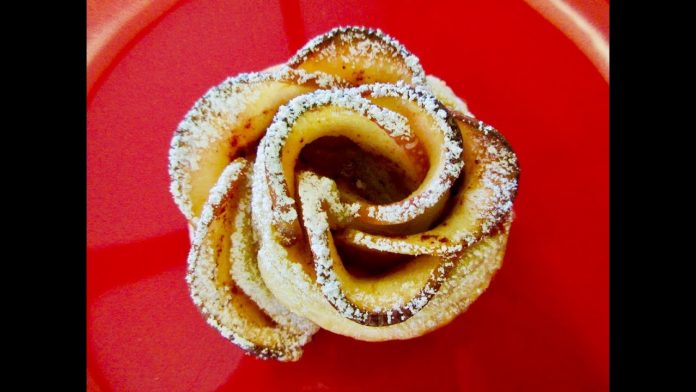 APPLE ROSE PASTRIES…a perfectly baked Fall dessert!! Deronda demonstrates how to make this creative APPLE DESSERT!! A must for entertaining, or NOT!! Recipe below by clicking on SHOW MORE…
APPLE ROSE PASTRIES
(Makes 6)
(1) sheet of Ready-to-Bake PUFF PASTRY, thaw according to package directions.
2 red delicious or Fuji apples, Cut in half, core removed, sliced thinly
Juice from 1 lemon
cinnamon sprinkles
3 tablespoons Apricot Jam, add 2 tablespoons of water and microwaved for 1 minute. Stir. Cool
2 tablespoons powdered sugar, optional
1. Add lemon juice to a large bowl of water. Add sliced apples. Microwave for 2 minutes. Drain off water. Cool.
2. On a lightly floured surface, roll out Puff Pastry until smooth. Slice into 6 equal parts.
3. Add 1 teaspoon of apricot jam to each pastry slice. Add sliced apples to the top of pastry. Fold up bottom of puff pastries. Starting at one end of pastry start to roll. Pinch ends together until pastries attaches.
4. Add APPLE ROSE into a greased or oil sprayed muffin pan.
5. Bake on 375 degrees for 40-45 minutes.
6. Remove APPLE ROSE PASTRIES from muffin pan (immediately) to cooling rack. Once cooled sprinkle with powdered sugar, optional.
SERVE your APPLE ROSE PASTRIES with ice-cream, whipped cream, or NOT!! ENJOY your way, always, my friends!!
JOIN ME ON…
Instagram:
Pinterest:
Twitter:
Deronda's channel offers many different foods that are easy and simple to make, yet delicious to eat…Appetizers, Main Dishes, Desserts, Snacks, Breads, Tips, and much more from start to finish!! An inspirational channel for the CHEF in all of us.
Made with LOVE 🙂
Music by…Kevin MacLeon ()