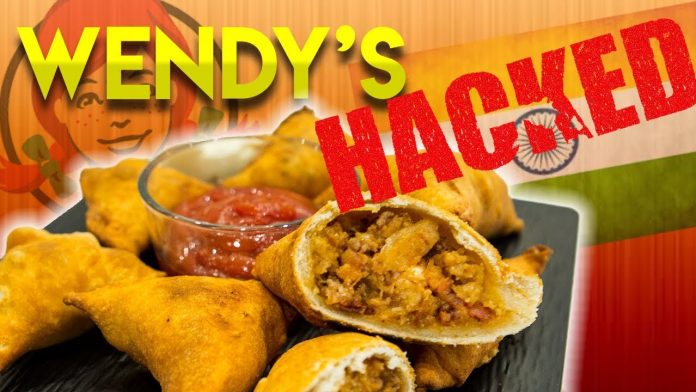 Let Adam AKA Gross Guy teach you how to make Baconator Samosas! They are so damn delicious!
Ingredients
1/2 LB of ground beef
1 Package of bacon
1 Package of frozen french fries
1/2 a cup of shredded cheese
2 Tbsp's of ketchup
2 Tbsp's of mayo
Dough
3 cups of flour
1 Tbsp of salt
4 Tbsp's of melted butter
3/4 cup of cold
1 Egg
Oil for deep fry
Tools
1 Chef knife
1 Cutting board
2 Frying pans
1 Wooden spoon
1 Metal slotted spoon
1 Oven tray
Parchment paper
1 Large pot
Food processor
2 Mixing bowls
1 Rolling pin
Step 1
Cook ground beef and bacon bit's in separate frying pans on medium heat for 10 to 15 minutes.
Step 2
Bake french fries in the oven at 450 degrees Fahrenheit for 20 minutes. Once baked chop finely or put in a food processor.
Step 3
In a mixing bowl add ground beef, bacon bits, 1/2 a cup of shredded cheese, 2 Tbsp's of ketchup,2 Tbsp's mayo and chopped french fries then mix well.
Step 4
Add 3 cups of flour, 1 Tbsp of salt, 4 Tbsp's of melted butter, 3/4 cup of cold water then mix well until a dough forms.
Step 5
Roll out dough in to a circle then cut in half and fold to form a triangle seal the joints with egg wash and form a cone. Stuff the dough with filling then deep fry in oil at 350 degrees Fahrenheit for 6 to 8 minutes until golden brown. Serve with ketchup and mayo.
Check out Harley's Video Diaries –
We have a #YouTubeGaming Channel:
Follow the guys!
@harleyplays @chefatari @epicgrossguy @cooldan @itsmikesantos
LIKE/FAVORITE and SHARE for new meals every week!
Baconator Samosas – Handle It