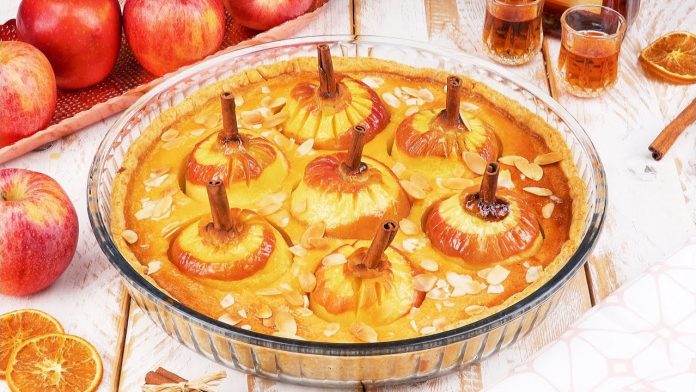 Here's how to make our festive Baked Apple Tart. Don't forget to subscribe to our channel first!
You'll need:
For the pastry:
– 2⅖ cups flour
– 7 oz soft butter
– 1 egg
For the filling:
– 1⅘ cups sour cream
– 2 eggs
– 1 egg yolk
– 2½ tbsp sugar
– lemon zest
– 1.7 fl oz amaretto
– 1 packet pudding powder
For the baked apples:
– 1⅕ cups icing sugar
– 7 oz ground almonds
– 1.7 fl oz amaretto
– 7 apples
– 4 cinnamon sticks
– some flaked almonds
Here's how:
1. Knead the flour, butter, and egg into a dough and shape it into a ball. Leave it to rest in the refrigerator for one hour. Next, press it out in a quiche dish. Make sure that the base has an even thickness. Use a fork to prick the pastry — this prevents bubbles from forming during baking. Now bake the pastry at 350°F for 20 minutes in a convection oven.
2. Next, stir the sour cream, eggs, egg yolk, sugar, lemon zest, and amaretto into a smooth mixture using a whisk. Only mix in the pudding powder at the end. Now pour the mixture on top of the pastry.
3. To create your own marzipan, knead icing sugar, almonds, and amaretto until you have a firm, cohesive, and slightly sticky ball. This requires a bit of elbow grease and time. If the marzipan starts to crumble too much, add some more amaretto in very small amounts. Careful: the marzipan can become too sticky very quickly.
4. Remove the cores from the apples using an apple corer and peel decorative spirals into the apples. Carefully cut around the top of the apples using a knife and cut away their bottoms so that there's a flat surface to stand them upright.
5. Fill the apples with marzipan and place half of a cinnamon stick in each one. You can also do without the cinnamon sticks. Place the apples in the filling as follows: one apple in the center with the six others surrounding it. Sprinkle the almonds on top of the filling and bake the tart at 340°F for 50 minutes.
Full recipe here: