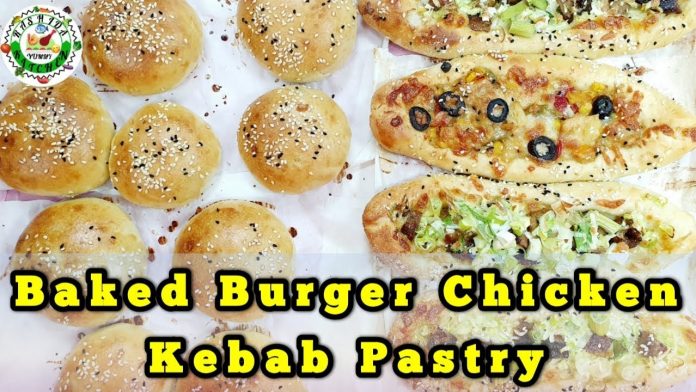 Hello Every one today in Rashida Yummy Kitchen , We Gonna Learn about How to make Baked Burgers Chicken Kebab Pastry Recipe
I hope you all like the dish and try it at your home ,
Kindly leave a comment if you like the recipe and share it to your
love one and support our channel for more videos like this .
————————————————————————————————-
►Recipe are as follows 👇
BAKED BURGER
CHICKEN KEBAB PASTRY
. RECIPE
FOR PASTRY AND BURGER DOUGH
BLEND CURD – 100GM
ADD 1/2 CUP OF WATER
2 TBSP SUGAR
1/2 CUP OIL
YEAST_1 TESP
WHITE FLOUR – 1/2KG
BUTTER – 1/2 CUP
SALT – 1/2 TESP
SEPARATE 1 EGG WHITE AND EGG YOLK
ADD THE EGG WHITES IN FLOUR
LEAVE THE EGG YOLK BESIDE
MAKE A SOFT DOUGH WHILE ADDING WHITE FLOUR SLOWLY WITH OTHER INGREDIENTS
GIVE NICE MASSAGE TO DOUGH SO IT SHOULD BE A SOFT DOUGH.
KEEP IT FOR MINIMUM 2 HRS AND COVER.
Mixture for inside
Chicken Burger pizza mixture
Recipe link is in bio
Mozarrella cheese – 1/2 cup
1 egg
Sesame seeds 4 tbsp and mangrela
2 tbsp
Homemade chicken kebabs
Spring onions – 1cup
Mix the egg into spring onions.
AFTER 2 HRS.
TAKE  DOUGH IN PARATHA SIZE DOUGHBALLS
AND ROLL IT IN LONGSIZE AS SHOWN IN VIDEO
COAT CORNER WITH MOZARRELLA CHEESE AND FOLD.
FOR BURGER
MAKE MEDIUM SIZE DOUGH BALLS
& PUT CHICKEN MIXTURE IN IT
For PASTRY : PUT MOZARRELLA CHEESE INSIDE
FOLLOWING WITH CHICKEN MIXTURE AS SHOWN IN VIDEO.
TAKE THE SEPARATE EGG YOLK AND 4 TBSPOF  MILK AND 1/2 TESP COFFEE
MIX IT ALL & BRUSH IT ON BREAD ALL SIDE
NOW SPRINKLE SESAME SEEDS AND MANGRELA SEEDS ON PASTRIES AND BURGER.
BAKE BOTH PASTRIES AND BURGER FOR 30 MIN
AT 200° AND KEEP  UPSIDE FOR 10 MIN UNTILL LIGHT BROWN.
READY TO EAT THE DELICIOUS PARTY SNAcks.
————————————————————————————————-
►Follow me on Instagram 👇
►Follow me on Facebook 👇
————————————————————————————————-
Do Leave A Like Subscribe my channel For More Awesome Videos Like This 👇
————————————————————————————————-
-INTRO MUSIC USED :
-BACKGROUND MUSIC USED:
👉© Copyright Disclaimer : Under Section 107 of the Copyright Act 1976, allowance is made for "fair use" for purposes such as criticism, comment, news reporting, teaching, scholarship, and research. Fair use is a use permitted by copyright statute that might otherwise be infringing. Non-profit, educational or personal use tips the balance in favor of fair use.
#Bakedburgerchickenkebabpastry #recipe #Rashidayummykitchen
👉Email:- Rashida.Kitchen@gmail.com