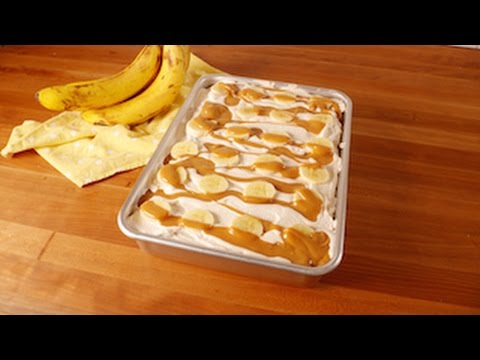 Get the full recipe from Delish:
INGREDIENTS
Nonstick cooking spray, for pan
1 box yellow cake mix, plus ingredients called for on box
1 c. dulce de leche, slightly warmed (plus more for drizzling)
2 c. cold heavy cream
1/4 c. powdered sugar
1/2 tsp. pure vanilla extract
1/4 tsp. cinnamon
1 banana, sliced
DIRECTIONS
1. Preheat oven to 350° and grease a 9″-x-13" pan with cooking spray.
Prepare cake mix according to package instructions. Pour batter into greased pan and bake until the cake is golden and a toothpick inserted into the center comes out clean, about 26 minutes.
2. Using the back of a wooden spoon, poke holes across entire cake surface. Pour dulce de leche on top to fill the holes.
Make whipped cream: In a large bowl, combine heavy cream, powdered sugar, vanilla and cinnamon. Using a hand mixer or a large whisk, beat mixture until soft peaks form. Spread whipped cream on top of the cake.
3. Garnish the frosted cake with banana slices, then drizzle more dulce de leche on top. Slice into squares.
SUBSCRIBE to delish:
FOLLOW for more #DELISH!
Facebook:
Twitter:
Instagram:
Pinterest:
Google+: