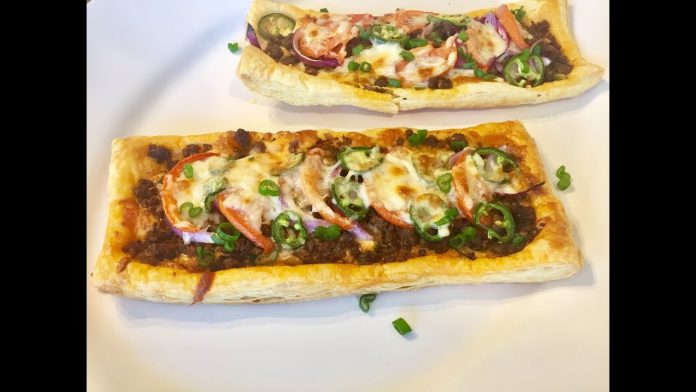 Thank you so much for watching. Please subscribe to my channel. Like this video and please share it.
Recipe:
1 Sheet Puff Pastry.(Store bought)
1 lbs Minced beef.
1 tbsp Minced Ginger-Garlic.
1 tsp Salt.
1 tsp Paprika.
1/2 Smoked Paprika.
1 tsp Coriander powder.
1 tsp Cumin seed powder.
1/2 Red Onion.
1 Jalapeno.
1 cup Mozzarella cheese.
For Pizza topping. (Red Onion, Tomato, Jalapeño).
1 Egg.
Recipe:
In a pan add oil and the beef. Cook for 3 minutes or until it changes color. Add minced ginger-garlic. Add salt, paprika, smoked paprika. Keep cooking and add coriander powder and cumin seed powder. Cook until the beef is cooked. Add red onion and jalapeño. Cook it for 3 more minutes. Keep it aside.
Though the puff pastry according to the direction on the box. Once its ready to use cut it into rectangular pieces.
Roll it out to a desire size. Make a cut using a knife. Brush the pastry with egg wash. Now add the topping. Add cheese , cooked beef, red onions, tomato, jalapeño and more cheese. Pre heat the oven to 360. Bake the pizza foe 20-25 minutes. Enjoy.
Follow Me:
Follow Me:
www.
Follow Me:
Follow Me:
www.
Follow Me:
www.