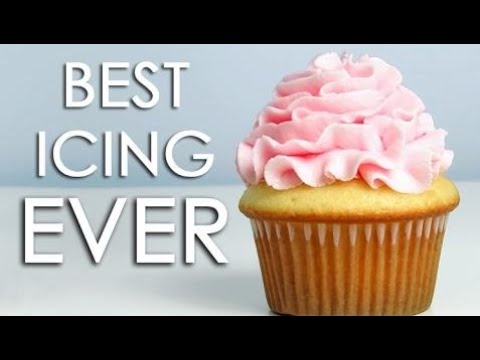 BEST Icing EVER!! How-to make the PERFECT Icing! | SUMO CAKE
BEST Icing EVER!! How-to make the PERFECT Icing! | SUMO CAKE
Learn how-to make the PERFECT icing for any cake!
Back to Basics! Everything you NEED to know:
SUBSCRIBE HERE:
Buttercream Icing Printable Recipe –
Icing is simple. All you need is 1 cup of fat, to 4 cups of icing sugar and whatever flavouring you like. I tried multiple combinations of different ingredients, and came up with the perfect recipe for Icing. However, since the science of an icing recipe is so simple you can change up this recipe how you like. I like the flavour and consistency of using a combination of both butter and shortening. However you can use all butter if you prefer, it will just change the colour and density of the icing a bit.
As for the flavour of buttercream… don't get me started! This is a base recipe for vanilla icing, but you can transform it into endless combinations of flavours.
Ingredients:
• 1/4 cup Room temp. unsalted butter
(or dairy free butter)
• 3/4 cup Vegetable Shortening
• 1 1/4 tsp. Vanilla Extract
• 1/2 tsp. Butter Flavour
• 3-6 tsp. water
• 4 cups Icing Sugar
• Pinch of Salt
Directions:
You want to start off by creaming together your shortening and butter on medium speed for 2min. Add in your salt, vanilla, and butter flavour and mix until incorporated. Add in half of the icing sugar and 2 tsp of water. Mix on low speed until combined, then mix on high speed for 2 min. Add in remaining icing sugar and 1 tsp of water, mix on low speed until combined, then mix on high speed for 3 min. If icing seems too stiff add additional water.
*Water should be adjusted according to climate. If there is a lot of humidity in the air only add in 3 tsp of water. If you are making icing in the winter and it is very cold, you might need to add in all 6 tsp. of water to achieve the desired consistency.
Having a hard time making icing? This might help!
If your icing is to soft it may be because you have added to much water, or it is very hot or humid where you live.
Try lowering the water content a bit to make a stiffer icing, you can also stiffen it up by adding in extra icing sugar. If your icing is to stiff, try adding in more water to soften it up a bit..
You can make this icing up to a week ahead of time.
Store in air tight container at room temperature, when you ready to use it just whip it up on your mixer and decorate away. However fresh icing is much easier to work with.
Store in air tight container at room temperature. Makes approximately three cups of icing.
For a beautiful lemon buttercream try adding in lemon juice in place of the water. Want a little more citrus?? Add in some fresh lemon zest to really kick this icing up a notch!
For a delicious chocolate buttercream, add in 1/3 cup of cocoa powder, and 1/3 cup melted vegan chocolate. Whip it up and enjoy!
Who doesn't LOVE peanut butter?!?! For a simple yummy peanut butter icing, just add in 1/2 cup of creamy peanut butter. That's it! Super easy!
FOLLOW ME:
Facebook-
Instagram- www.instagram.com/theicingartist.laurie
Website- www.theicingartist.com
Useful links!
For full printable recipes go to
Vanilla pound cake recipe –
Buttercream Icing/frosting recipe –
Buttercream icing step by step video –
How to cover a cake in fondant video –
How to smooth ice a perfect buttercream cake video –
THE PRODUCTS I USE!!!
#NoCakeLimits
I love seeing pictures of your cakes and creations! Tag me on social media @theicingartist.laurie or email me at theicingartist@hotmail.com
Music Credits:
Nicolai Heidlas Music – Drive
'DRIVE' – Fresh Upbeat Pop Background Music
Nicolai Heidlas Music – Sunny Afternoon
Sunny Afternoon – Upbeat Ukulele Background Music
Nicolai Heidlas Music – Paint It
[142 BPM 'PAINT IT!' – Free Upbeat Pop Background
Nicolai Heidlas Music – Morning Sun
Morning Sun – Free Happy Background Music
Nicolai Heidlas Music – Pacific Sun
'PACIFIC SUN' – Free Happy Ukulele Background Music
by Nicolai Heidlas Music is licensed under a Creative Commons License. #SUMOCAKE