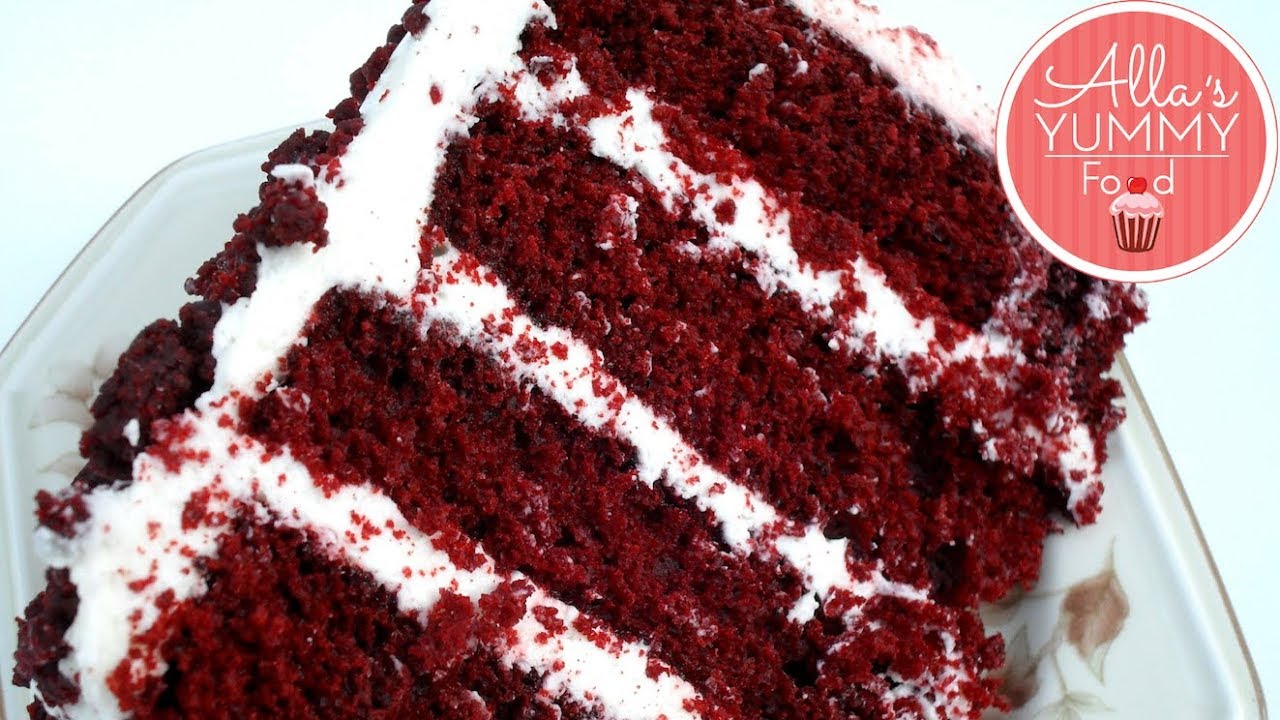 Best Red Velvet Cake Recipe. RECIPE HERE:
Support me on Patreon:
Get MY FREE E-BOOK –
Come to my SUPPER CLUB :
Easy Desserts and Cupcakes Recipes:
No bake Desserts:
Caramel desserts recipes :
Delicious Summer Recipes:
Mirror glazed cakes:
Cakes & Baking Recipes:
Russian Desserts:
Best Lava Cakes :
A moist, classic Red Velvet Cake!! This is perfect for the Halloween coming up. This is made from scratch, and surprisingly easy when a few simple steps are followed. This has a soft "velvet" texture, just like what you get from top end fine bakeries. And topped with plenty – PLENTY – of cream cheese frosting!
There is something so elegant about a red velvet cake. Maybe it's the name or that beautiful, bold red color. Or maybe it's the delicate crumb and lightly chocolatey sweet taste mellow with a tad bit of tang from the buttermilk. I've been getting a lot of requests for red velvet cake. Smooth, chocolatey sponge smothered with rich buttercream icing, it takes a lot to beat the beautiful indulgence of red velvet cake. Adding a bit of coffee to the batter isn't "traditional" for red velvet cakes but it adds another layer of flavor and really hypes up the chocolatey taste to perfection. Not to mention the extra liquid makes this cake do doggone soft so don't skip it! Oh and don't worry, you can't taste the coffee.
Ingredients
For the cake
512 gr OR 4 cups plain flour
2 tsp baking soda
2 tsp baking powder
2 tsp salt
20 grams OR 4 tbsp cocoa powder
400 gr OR 4 cups sugar
218 ml OR 1 cup vegetable oil
230 gr OR 1 cup butter
4 eggs
480 ml OR 2 cups buttermilk
4 tsp vanilla extract
1-2 tsp of red food colouring, depends how deep you want the colour
2 tsp white distilled vinegar
1 cup plain hot coffee, prepared
For the Icing
400 gr of Cream Cheese
113g OR 1/2 cup unsalted butter at room temperature
1 tbsp of vanilla extract
500 gr OR 4 cups icing sugar / confectioner's sugar sifted
Торт Красный бархат— шоколадный торт тёмно-красного, ярко-красного или красно-коричневого цвета. Традиционно готовится как слоёный пирог с глазурью из сливочного сыра. Сейчас объясню, почему это ультра популярный десерт. Посмотрите на внешний вид: яркие красные коржи и белоснежный крем. Он невероятно яркий и броский, к тому же я не знаю другого такого торта, хотя бы немного похожего. У него очень пористые и влажные коржи, они буквально таят во рту, но фишка даже не в этом. Вся хитрость в небольшом количестве какао, которое добавляется в тесто, но маскируется красным цветом. То есть, откусывая кусочек, вы ждёте чего угодно, но не шоколадного послевкусия. Это торт, который обманывает восприятие и удивляет снова и снова.
Для торта
512 гр муки
2 чайной ложки пищевой соды
2 чайной ложки разрыхлитель
2 ч.л. соли
20 г какао-порошка
400 г сахара
218 мл растительного масла
230 г масла
4 яйца
480 мл пахты
4 ч.л. экстракта ванили
1-2 ч.л. красной пищевой окраски
2 ч.л. белого уксуса
1 чашка горячего кофе, приготовленная
Для глазури
400 г сливочного сыра
113 г масла при комнатной температуре
1 ст.л. экстракта ванили
500 г сахарная пудра
homemade tasty