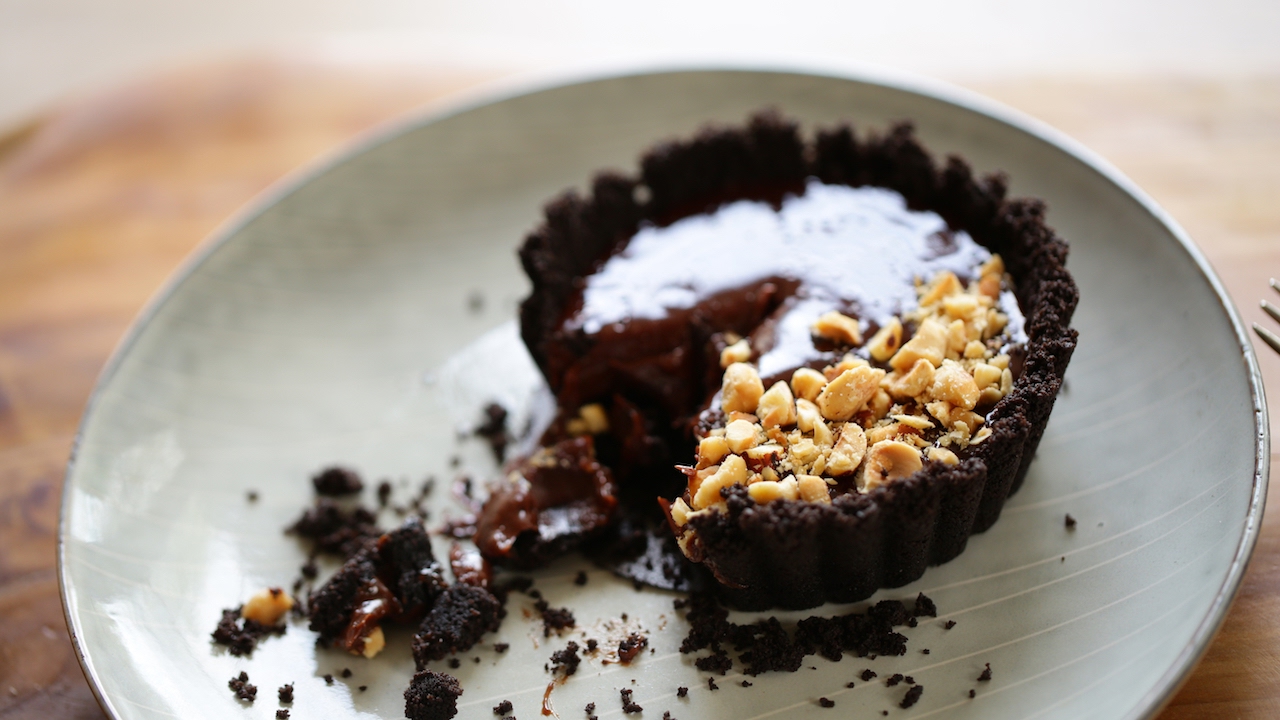 Learn how to make an easy Valentine's Day Dessert Recipe designed for two! This Valentine's dessert idea is easy and elegant and a fantastic end to Vincenzo's decadent Italian grilled cheese sandwich Recipe! Hope you enjoy! 🙂
SUBSCRIBE for more great recipes!
SUBSCRIBE to my gardening channel!
VISIT MY WEBSITE FOR PRINTABLE RECIPES:
SUBSCRIBE TO VINCENZOS PLATE!
WATCH VINCENZO'S VIDEO HERE!
SHOP MY FAVORITE KITCHEN PRODUCTS IN MY KIT SHOP! (These links go to amazon where I am an affiliate partner)
MORE GREAT VALENTINES DESSERT RECIPES!
Chocolate Mouse Cake
Chocolate Lava Cake
Foolproof French Macarons
Raspberry Cheesecake
Strawberry Shortcake Cupcakes
Chocolate Pot de Creme
Strawberry Ice Cream Baskets
S'More Pie
Creme Brulee
Tiramisu
Profiteroles
BETH'S CHOCOLATE HAZELNUT TART FOR 2
Serves 2
INGREDIENTS:
12 chocolate sandwich cookies, fillings removed
2-3 tbsp (30-45g) butter, melted
¾ cup (180ml) heavy cream (plus more for thinning if needed)
½ cup (120 ml) bittersweet chocolate chips
½ cup (120 ml) milk chocolate chips
2 tbsp (20g) roasted hazelnuts, chopped
METHOD:
Crush cookie crumbs in a food processor until smooth, add butter and pulse until combined. It should feel like wet sand, if too dry add more butter.
Divide crumbs into 2 tart tins with removable bottoms. Using a metal measuring cup (or small glass) Press crumbs up the sides of the tin to create a crust. Press crumbs down at bottom too. And level off crumbs at top by pressing them down with measuring cup or your finger so that the top is flush with the tin.
Place tins on cookie sheet and bake at 350F (176C) for 10 mins.
Meanwhile place heavy cream in a large saucepan and warm until simmering and foamy, Turn off heat and add chips. Whisk until smooth. Add more cream in 1 tbsp (15 ml) increments if needed until chocolate is of pouring consistency.
Pour chocolate into tins, top ½ half of tart (in a half-moon shape) with the chopped hazelnuts. Best way to chop a hazelnut? Place them in a plastic bag, and whack them with a rolling pin!
Refrigerate tarts for at least 1 hour for a gooey center 4 hours or overnight for a firmer fudge-like texture.
Before serving remove from tins and serve with lightly whipped homemade whip cream if you desire. Enjoy!
ABOUT THIS CHANNEL
Hi! I'm Beth Le Manach and I believe food tastes better when shared. Subscribe to my cooking channel, Entertaining with Beth, to learn holiday recipes, party planning tips and easy recipes for weeknight meals! New recipe videos post every Saturday! SUBSCRIBE HERE! .