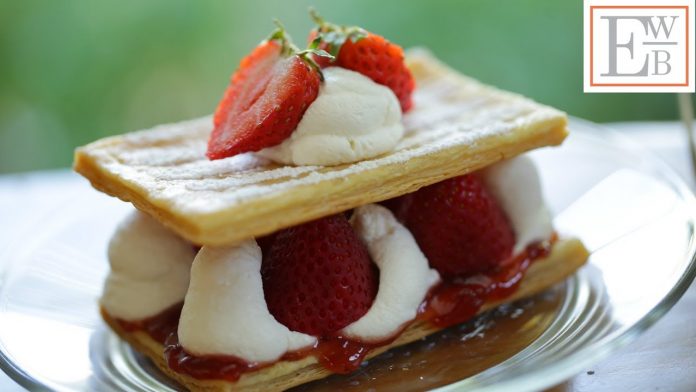 Learn how to make my super simple strawberry napoleons! A great summer entertaining idea that only looks complicated, but is actually really easy to make!
You'll use store-bought puff pastry (I recommend the Pepperidge Farm brand of puff pastry since it comes in panels and is already scored for you). This makes the cutting super simple. Whip up some homemade whipped cream, add a little jam and fresh strawberries and you're done! How easy is that?!
This would also be a great one for Mom on Mother's Day!
SUBSCRIBE for more great recipes!
WATCH MORE MOTHER'S DAY RECIPES
Classic Strawberry Shortcake
Strawberry Shortcake Cupcakes
Herby Cheesy Egg bake
Cinnamon Coffee Cake
Strawberry Coconut Ice Cream Baskets
Blueberry Crumb Cake
Blueberry Waffles
BETH'S SUPER SIMPLE STRAWBERRY NAPOLEON RECIPE
Makes 6
INGREDIENTS:
2 sheets store-bought puff pastry (preferable Pepperidge Farm Brand since it's already scored)
2 tbsp (30 ml) strawberry jam
2 cups (475 ml) heavy whipping cream
2 tbsp (30 ml) powdered sugar + more for dusting
1 tsp (5 ml) vanilla extract
30 small strawberries
METHOD:
Preheat oven to 400F (200C).
Turn out puff pastry onto a floured surface. Cut pastry, vertically into 3 equal-sized rectangles, then cut those horizontally into smaller, equal-sized rectangles.
Pierce pastry all over with a fork, transfer to a rimmed lined baking sheet, lined with parchment paper. Top pastries with another sheet of parchment paper, and place another rimmed lined baking sheet on top, essentially "sandwiching the puff pastry rectangles. This will prevent them from puffing up as they bake and will allow them to get golden brown and still remain flakey. Bake for 20-25 mins. Remove from the oven and allow them to cool.
TIP: Once completely cooled, the pastry can stay at room temperature on a cooling rack, covered with just a single pie of foil on top. Do not wrap the pastry or condensation can form and decrease the crispness.
To make the whipped cream, place the cream, powdered sugar, and vanilla in a bowl of an electric mixer and whisk on high enough stiff peaks form. Transfer to a pastry bag fitted with a round tip.
To serve, place 1 pastry rectangle on a dessert plate, spread 1 tsp of the jam evenly on the pastry. Pipe 6 mounds of whip cream (3 on the top of the rectangle, 3 on the bottom. Leaving space in between for 4 strawberries.
Slice tops of strawberries, making sure each strawberry is roughly the same height, and roughly the same height as your whipped cream mounds. Nestle the 4 strawberries in between the cream mounds. Two on top and 2 below.
Then take the second puff pastry rectangle, place a slotted spatula on top, dust powdered sugar over it, remove gently and decorative stripes will be left on your rectangle. Place pastry on top of your Napoleon. Pipe a mound of whipped cream on the center of the top, then leaving the top intact, slice this strawberry in half, and use it as a garnish, nestled in the center mound of cream, cut side up, going in opposite directions (tops facing each other)
ABOUT THIS CHANNEL
Hi! I'm Beth Le Manach and I believe food tastes better when shared. Subscribe to my cooking channel, Entertaining with Beth, to learn holiday recipes, party planning tips and easy recipes for weeknight meals! New recipe videos post every Saturday! SUBSCRIBE HERE! .