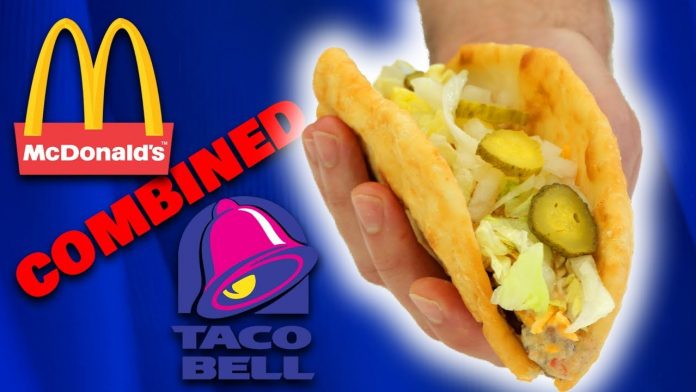 This week Ameer teaches you how to make a Big Mac Chalupa by fusing together your favorite McDonalds meal with some Taco Bell!
Ingredients
1/2 Pound ground beef
2 to 3 Pickles
1 Cup of shredded lettuce
1 Cup of Onions
1 Cup of shredded cheddar cheese
Vegetable oil for deep fry
Dough
2 1/2 Cups of flour
1 Tbsp baking powder
1 Tbsp vegetable shortening
1 Cup of milk
1 Tsp of salt
Baja mac Sauce
1/4 Cup diced red bell pepper
1 Diced Jalapeño
2 Tbsp diced onion
1 Cup of thousand island dressing
1 Tbsp vinegar
1 Tsp black pepper
1 Tsp garlic powder
1/2 Tsp cumin
Step 1
Add 1/4 Cup diced red bell pepper, 1 Diced Jalapeño and 2 Tbsp diced onion to a food processor then blend until a puree and strain any excess moisture. Add 4 Tsp's of puree to 1 cup of thousand island dressing, 1 Tbsp vinegar, 1 Tsp black pepper, 1 Tsp garlic powder and 1/2 Tsp cumin then mix well and refrigerate.
Step 2
Cook ground beef in a frying pan until no longer pink then remove grease. Season with salt and pepper.
Step 3
Add 2 1/2 Cups of flour, 1 Tbsp of baking powder, 1 Tsp of salt and 1 Tbsp vegetable shortening to a mixing bowl and mix well. Once the shortening has cut into the flour add 1 Cup of milk and mix well until a dough forms.
Step 4
Cut the dough into 8 even pieces then roll the dough into a circle about 8 inches wide and perforate it with a fork. Heat oil to 350 degrees fahrenhiet and shallow fry dough on each side for 1 minute then using a pair of metal tongs and a metal spoon fold the tortilla in half leaving space in the middle. Cool tortillia on a tray lined with paper towel.
Step 5 build
Fill the shell with ground beef, sauce, shredded cheese, lettuce, pickles and onion.
Check out our new Jerky available in Walmart across the USA!
Check out Harley's Video Diaries –
We have a YouTubeGaming Channel:
Follow the guys!
@harleyplays @chefatari @epicgrossguy @cooldan @itsmikesantos
LIKE/FAVORITE and SHARE for new meals every week!
Big Mac Chalupa – Handle It