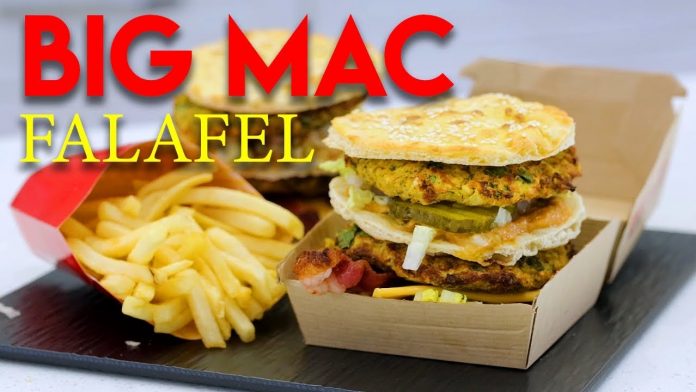 This week Dan teaches you how to make a Big Mac Falafel! It's delicious and not too hard to make either!
Ingredients
Falafel
1/4 Cup chopped parsley
1/2 Cup diced onion
1 Tbsp minced garlic
1 Tsp cumin
1 Tsp coriander
1 Tbsp salt
2 Tbsp flour
1/2 Pack of bacon
6 Greek pita bread
1 Egg
3 Tbsp sesame seeds
1 Head of chopped lettuce
2 Slices of cheddar cheese
4 to 8 pickles
Sauce
1/2 cup of tahini
2 Tbsp french dressing
1 Tbsp relish
1 Tsp sugar
1 Tsp onion
1 Tsp vinegar
1 Tsp ketchup
1 Tsp salt
Tools
1 Chef knife
2 Cutting board
2 Mixing bowls
1 Frying pan
1 Masher
Parchment paper
1 Oven tray
1 Circular cookie cutter
1 Pair of tongs
Step 1
Chop parsley and cut onions into very fine bits. Drain a can of chickpeas then add to a mixing bowl with 2 Tbsp of chopped parsley, 2 Tbsp of diced onions, 1 Tbsp minced garlic, 1 Tsp cumin, 1 Tsp coriander, 1 Tbsp salt and 2 Tbsp flour then mash until a thick paste.
Step 2
Make falafel patties then place in the freezer for 10 to 15 minutes to become firm. Heat oven to 375 degrees Fahrenheit then bake falafel for 25 minutes.
Step 3
Cook bacon strips in a frying pan.
Step 4
Use a circular cookie cutter on 6 pita bread to make your buns. Egg wash the top of 2 pitas and sprinkle sesame seeds on top and bake in the oven at 375 degrees Fahrenheit for 3 minutes.
Step 5 sauce
In a mixing bowl add 1/2 cup of tchini, 2 Tbsp french dressing, 1 Tbsp relish, 1 Tsp sugar, 1 Tsp onion, 1 Tsp vinegar, 1 Tsp ketchup and 1 Tsp salt then mix well.
Step 6 Build
On the heel layer on sauce, onions, lettuce, slice of cheese and falafel. On the center bun layer on sauce, onion, lettuce, 2 pickles and falafel then top with sesame seed bun.
Check out Harley's Video Diaries –
We have a #YouTubeGaming Channel:
Follow the guys!
@harleyplays @chefatari @epicgrossguy @cooldan @itsmikesantos
LIKE/FAVORITE and SHARE for new meals every week!
Big Mac Falafel – Epic Meal Time