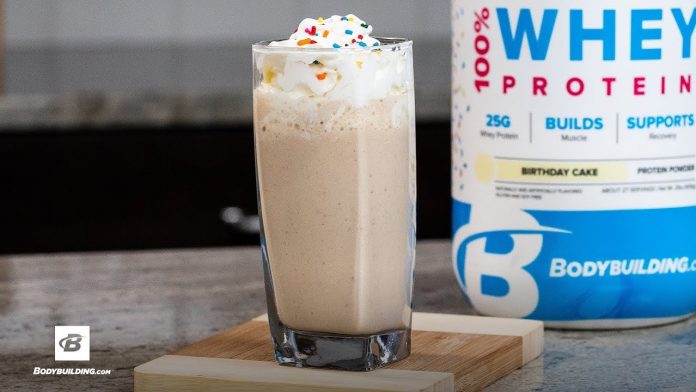 If you don't have time to eat birthday cake—let alone make it—this is the shake for you!
► Signature Birthday Cake Whey Protein:
► Signature Birthday Cake Protein Crunch Bar:
► Shop Bodybuilding Signature Supplements:
Almond milk and frozen banana add creaminess while still keeping this shake light and dairy free, and optional additions like cashew butter add richness to your on-the-go dessert. With this delicious birthday shake recipe, you can finally have your "cake" and eat it, too!
| Macros |
423 Calories
46g Carbs
30g Protein
14g Fat
| Ingredients |
1 medium (7″ to 7-7/8″ long) banana, frozen
¾ cup unsweetened almond milk
1 scoop signature Birthday Cake Whey Protein Powder
1 tbsp cashew butter
½ tsp vanilla extract
¼ tsp butter extract
| Toppings (Optional) Ingredients |
2 tbsp dairy-free reduced fat whipped topping
1 tsp cake sprinkles
| Directions |
Prep: 5 min
Cook: 0 min
Total: 5 Min
1. Blend all ingredients until smooth, adding more milk if needed.
2. Top with light whipped topping and sprinkles, plus additional toppings as desired. Enjoy!
========================================­=====
| Follow Us |
► Twitch:
► YouTube:
► Facebook:
► Instagram:
► Twitter:
► Google+:
► Pinterest:
► Spotify:
We are Bodybuilding.com. Your transformation is our passion. We are your personal trainer, your nutritionist, your supplement expert, your lifting partner, your support group. We provide the technology, tools and products you need to burn fat, build muscle and become your best self.