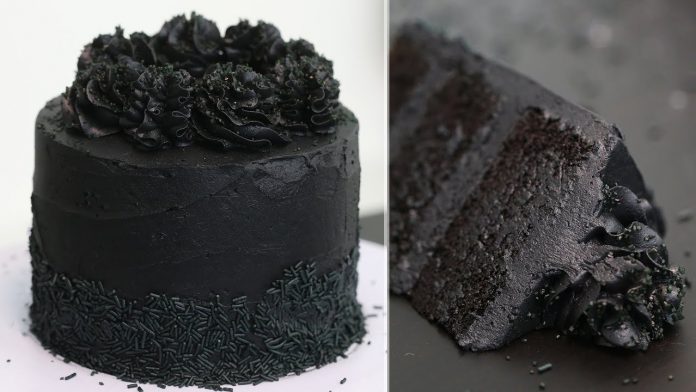 A spooky cake with jet black cake and buttercream! We're using activated charcoal powder to make a cake as dark as your soul! Activated charcoal doesn't have any flavor and a little goes a super long way. I love using it in recipes! FULL RECIPE BELOW!
Blackest Black Cake
Ingredients
Cake batter:
2 cups all-purpose flour
2 cups sugar
¾ cup cocoa powder + extra for coating the pan
2 tsp baking powder
1 1/2 tsp baking soda
1 tbsp activated charcoal powder
1 tsp salt
1 cup milk
½ cup vegetable oil
2 large eggs
2 tsp vanilla extract
1 cup boiling water
Buttercream:
2 cups unsalted butter, room temperature
1 tsp vanilla extract
1 tbsp activated charcoal powder
5 cups confectioner's sugar
Black sprinkles
black sugar
Directions
Bake the cake:
1. Place the flour, sugar, cocoa powder, baking powder, baking soda, charcoal powder and salt in a large bowl and mix together.
2. Add the milk, vegetable oil, eggs and vanilla extract and mix with an electric mixer until combined.
3. Slowly add the boiling water and mix until well combined.
4. Grease and flour four 6-inch round baking pans.
5. Divide the batter evenly between the pans and bake at 350F for 30-35 minutes, until a skewer inserted into the center comes out clean. Cool for 15 minutes in the pan, then turn onto a wire rack and cool completely.
Make the buttercream:
1. Beat the butter with an electric mixer until pale and fluffy. Add the vanilla extract and charcoal powder and mix until combined. Add the confectioner's sugar 1 cup at a time, beating with each addition.
Assembly:
1. Slice the tops and bottoms off the cakes to smooth the surface and remove any excess browning.
2. Stack the cakes and spread some buttercream between each layer.
3. Coat the cake in a thin layer of buttercream, called a crumb coat. This will catch any excess cake crumbs. Chill the cake in the fridge for 20 minutes.
4. Coat the cake in a thick, generous layer of buttercream.
5. Place the remaining buttercream in a piping bag fitted with a large, star-shaped piping tip. Pipe little dollops of buttercream onto the top of the cake. Sprinkle black sugar onto the dollops.
6. Gently press the black sprinkles onto the sides of the cake, placing a baking sheet under the cake to catch any that fall. Enjoy!
PRODUCTS MENTIONED:
Activated charcoal powder:
6-inch round cake pans:
Rotating cake stand:
2D piping tip:
Facebook: www.facebook.com/pankobunnycooking
Twitter:
Instagram:
Pinterest:
Blog:
Subscribe to my Channel!
New videos every single day! Make sure you tune in!
As always, thank you!!
xx
Cayla
For all of you who are amazing and have read this far, here is a clue for Tuesday's video: Pumpkin spice hot chocolate!
Music courtesy of Audio Network.
Song: Salad Days
This is not a sponsored video.