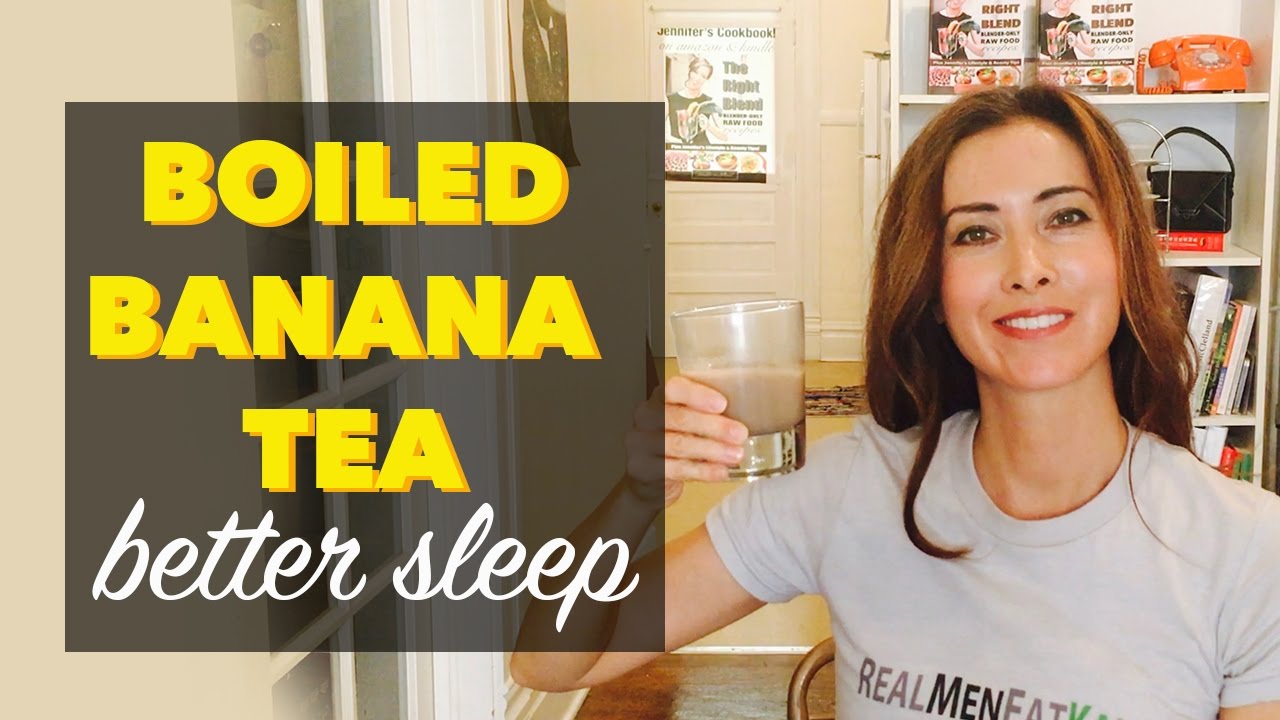 Boiled Banana Tea with Cinnamon | A Boiled Banana Recipe for Better Sleep at Night **** Visit
In this video I share how to get bette sleep with two banana tea recipes. I personally tried this and so far am experiencing great results!
MY TESTIMONIAL RESULTS: (Stay tuned for updates!)
DAY 1: I drank this tea (both recipes work) about 1 hour before bed. I fell asleep right away (sometimes I have trouble) and slept for 10 hours – I was a bit surprised I slept that long, especially that I went to bed before 10pm.
DAY 2: Coming soon!
Music Intro Courtesy of Rob Hulson
JENNIFER MAC BOOKS
The Right Blend: Blender-only Raw Food Recipes (black & white photos)
The Right Blend: Blender-only Raw Food Recipes (color photos)
Detox Delish: Your Guide to Clean Eating
MY FAVORITE TEES
"Shalom Ya'll" T-shirt
"RealMenEatKale®" T-Shirt
"Turn Up the Beat" T-Shirt
"I (Heart) Avocados" T-Shirt
"I (Heart) Kale" T-Shirt
+ …and more!
BASIC RECIPE
1 banana, 2 cups water, 1/8 teaspoon cinnamon (also helps in sleep): Add bananas to boiling water and boil for 10 minutes. Add cinnamon at the very last. Strain.
CREAMY BANANA TEA RECIPE
1 banana, 1 cup water, 1 cup almond milk, 2 teaspoons coconut oil, 2 teaspoons honey, 1 teaspoon carob (instead of chocolate so there is no caffeine), 1/8 teaspoon cinnamon (also helps in sleep). Boil water and add the ingredients and boil for about 10 minutes. Strain.
The Jennifer Mac on Social Media:
YouTube –
Instagram –
Facebook-
Twitter-
Snapchat –
DISCLAIMER: Just a note that this video and description contain affiliate links, which means that if you click on one of the product links, I'll receive a small commission. This really helps out and allows me to continue to make videos like this. Thank you so much for the support!
About this video: Jennifer Mac shares a boiled banana recipe
how to boil bananas. This is a great Boiled Banana Tea. Learn about boiled banana at night, boiled banana juice, and banana cinnamon tea. Learn about Boiled Banana, boiled bananas before sleep, and how to boil banana for sleep. Learn about Boiled Banana to sleep, boiled bananas for sleep, boil bananas sleep, boiling bananas for sleep, boiled banana before bed, and boil banana drink water.