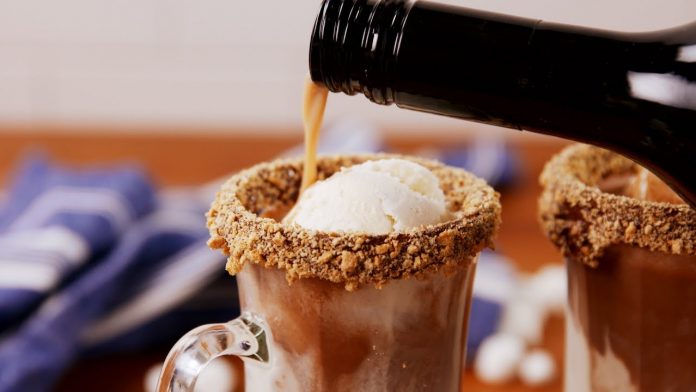 Get the full recipe from Delish:
INGREDIENTS
1/4 c. melted chocolate
1/2 c. crushed graham crackers, plus more for garnish
1 pt. vanilla ice cream
4 c. chocolate milk
1/2 c. Baileys Irish Cream
8 large marshmallows
Chocolate syrup, for drizzling
DIRECTIONS
1. Preheat broiler.
2. Place marshmallows on a small baking sheet and broil until golden on top, about 4 minutes.
3. In a small dish, pour melted chocolate. In another small dish, pour crushed graham crackers. Dip glasses into chocolate sauce to rim the mugs, then dip in crushed graham crackers.
4. Scoop ice cream into each glass, then pour chocolate milk on top and add a splash of Baileys.
5. Top each float with two marshmallows, then drizzle with chocolate syrup and sprinkle with more crushed graham crackers.
6. Serve with spoons immediately.
SUBSCRIBE to delish:
Delish.com is home to your favorite dinner recipes, party ideas, and #KitchenLessons. You don't have to know how to cook, you just have to love to eat. Come for the food, stay for the fun.
FOLLOW for more #DELISH!
Facebook:
Twitter:
Instagram:
Pinterest:
Google+: