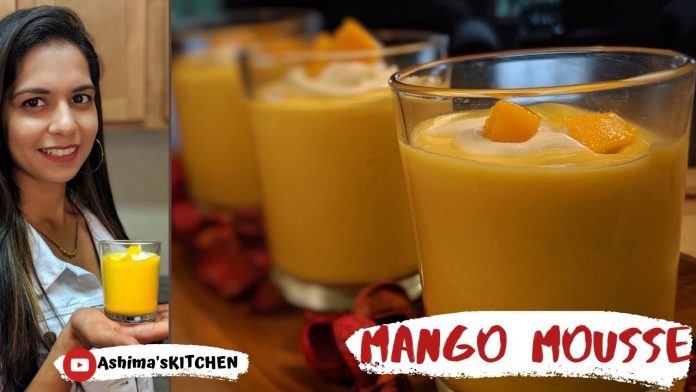 Mango Mousse recipe an easy and quick to make a yummy Desert in 10 minutes which is made from KING OF FRUITS-MANGO. It requires just 3 ingredients; just imagine then how simple it is. I promise you that you will impress your family and guests with this Mango Mousse! Mango as a fruit always looks beautiful and has a nice texture. For this no gelatin or cooking is needed.
Ingredients:
Ripe Mangoes – 4
Heavy Cream – 1 Cup
Sugar – 1/2 Cup
Online Link for Whipped Cream:
Amazon:
Make sure you make this recipe for yourself and your loved ones soon.
Guys, please SUBSCRIBE and HIT the BELL icon so that you do not miss any notification from Ashima'sKITCHEN.
Also check out some interesting recipes below:
Restaurant Styled SIRKA PYAZ Taste at Home | Vinegar Onion Pickle | Ashima'sKITCHEN
Make PERFECT MASALA DOSA at Home | Authentic SOUTH INDIAN Style | Easy Recipe
Authentic South Indian batter recipe for Crispy Dosa & Spongy Idli | Ashima'sKITCHEN
Quick Masala Sweet Corn Recipe | घर पर बनाये मसाला स्वीट कॉर्न
RESTAURANT STYLE Crispy Honey Chilli Potato | घर बनाये हनी चिली पोटैटो
3 Easy Watermelon Drinks I तरबूज का शरबत
DOMINOS Style Stuffed Cheese GARLIC BREAD I गार्लिक ब्रेड रेसिपी
EASY 10 MIN INSTANT SPONGY DHOKLA RECIPE | 10 मिनट में ढोकला घर पर बनायें
Tasty Rava Upma Recipe | सूजी का स्वादिष्ट उपमा
My other Social network link which you would love to follow are below:
Facebook :
Instagram : @ashimaskitchen
:
Twitter :
Pinterest :
Stay tuned with Ashima'sKITCHEN. Have a Happy Cooking!!!!