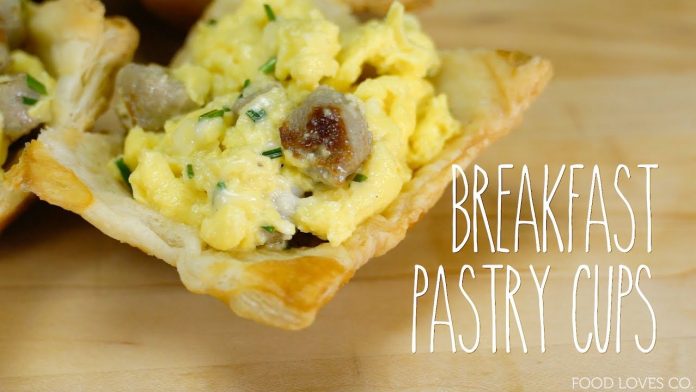 Breakfast Pastry Cups
Eat 1, or 2, or 6…I won't judge. I never will
Makes 6 pastry cups
Recipe by: Mark Calaminici | Food Loves Company
Ingredients
1 sheet of pre-rolled puff pastry, 10×10 inch
1 egg, for egg wash
2 tbsp extra virgin olive oil
8 Beretta maple breakfast sausages, or any breakfast sausage
10 eggs
¼ cup heavy cream
3 tbsp butter
Salt
Freshly cracked pepper
1 cup fontina cheese, shredded
½ cup chives, chopped
Method
1. Roll out the puff pastry and cut into small squares big enough to lay over top a reversed muffin tin. Gently hug the pastry around the muffin tin. Brush with egg wash and place in oven at 375 degrees for about 20-25 minutes, or until golden brown. You can also just cut the puff pastry into squares and cook them laying flat on a baking sheet.
2. In a large skillet over medium heat, heat extra virgin olive oil. Remove the casing from the sausage and cut into small pieces. Add sausage and sauté until cooked, about 4-5 minutes. Set aside. An extra step you can take with the cooked sausage is to place in food processor and gently pulse to create sausage crumbles.
3. In a large bowl add 10 eggs and cream. Lightly whisk to break up the yolks and incorporate the cream. Add butter to a skillet on low heat. Add eggs and stir for a couple minutes. Remove from heat, stir for a minute, add back to heat. Continue this process until the eggs become very creamy and luxurious. When eggs are done, season with salt and freshly cracked pepper.
4. Add sausage, fontina and chives into the scrambled eggs and gently mix to incorporate everything. Then add the egg mixture to the pastry cups and serve. Garnish with more fresh chives if you like.
Until next time, ciao!
______________________________
Instagram: @foodlovesco
Facebook: foodlovescompany
Twitter: @foodlovesco
Video by @thebestproductions
Music by Epidemic Sound