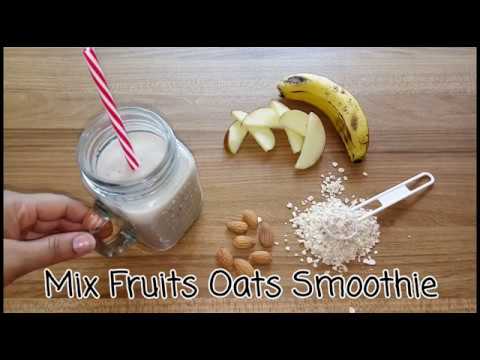 Hello everyone:)
Welcome to my channel. I hope you all doing good.
Today's video : Breakfast smoothie | Fruits oats smoothie | Indian style smoothie recipe | Smoothie recipe | Post workout drink recipe | post workout healthy shake recipe | Healthy milk shake recipe | Oats recipe | Healthy cooking | Healthy Food recipes
Smoothies are easy to make and healthy drink when you want something quick to recharge your energy. Smoothies make for a good breakfast option made with fresh fruits, oats, nuts and milk.
So in short, Its easy to make, healthy and full of nutrition.
Ingredients :-
1/2 apple & 1 medium size banana
(you can use any other fruit of your choice like mangoes, chikoo/sapota & any kind of berries)
4 tbsp of oats
4-5 almonds/walnuts
2 whole dates (as sugar alternate)
(But you can use sugar, brown sugar, honey as per your liking)
1/2 glass of chilled milk
(you can replace dairy milk with soy milk or almond milk)
You can add/less ingredients quantity as per your liking.
Do try this recipe and share your feedback in comment section. I would love to read all your comments.
I hope you guys enjoy this video and found it helpful.
Don't forget to LIKE, SHARE & COMMENT.
Make sure you SUBSCRIBE my channel
(Its totally free of cost but means alot to me)
Show some love guys 🙂
You can also follow me on:
Instagram :
Twitter as
Facebook :
Thanks for watching:)
Spread Positivity & love,
vijaya
DISCLAIMER: The information provided on this channel and its videos is for general purpose only and should not be considered as professional advice. We are trying to provide a perfect, valid, specific, detailed information. We are not a licensed professional so make sure with your professional consultant in case you need. All the content published in our channel is our own creativity. In case you need to use our content and photos for any purpose then please write to us –
[email protected]