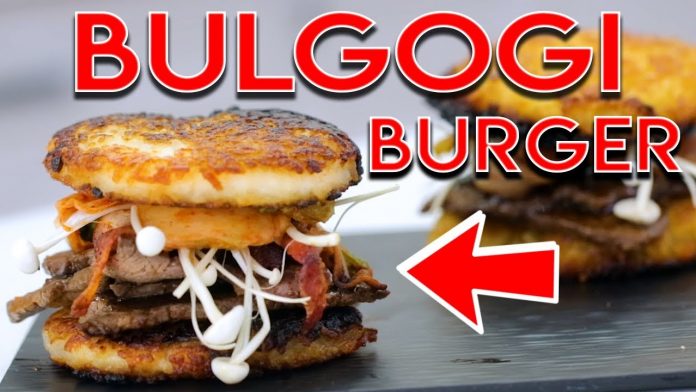 Ameer mixes American and Korean cuisine into one with this amazing Bulgogi Burger! Come make it now!
Ingredients
4 Cups of water
4 Cups of rice
1/2 Cup of rice vinegar
1 Cup of sugar
1 Pack of bacon
3 to 4 Sandwich steaks
1/2 Cup of Kim chi
1 Cup of bolgogi marinade
1/2 Cup Enokitake mushrooms
Tools
2 Small sauce pans
2 Oven trays
1 Chef knife
1 Cutting board
Parchment paper
1 Wooden/Slotted spoon
2 Frying pans
1 Pair of tongs
Step 1
In a small sauce pan boil 4 cups of water then add 4 cups of rice and reduce heat then cook for 8 to 10 minutes.
Step 2
In a small sauce pan bring to a boil 1/2 a cup of rice vinegar then add 1 cup of sugar and stir until sugar is dissolved. Add the rice vinegar to the rice and mix well then let cool in the freezer for 10 to 15 minutes.
Step 3
Cut bacon into thin strips and cook in a frying pan on medium heat for 10 minutes until cooked but not to crispy.
Step 4
Cut the steak into small pieces and marinate in bulgogi sauce for 10 minutes then cook in a frying pan for 5 minutes until meat is cooked.
Step 5
Once the rice has cooled form a rice ball in your hands then place on a sheet of parchment paper and flatten in to a patty then freeze in the freezer for 10 minutes until it's completely solid.
Step 6
Add enough vegetable oil to cover the base of a frying pan then cook the rice patties on each side for 3 to 5 minutes. Once the rice buns are seared place in the oven to bake at 350 degrees Fahrenheit for 10 minutes then cool in the freezer for 5 minutes.
Step 7 build
Use one of the rice buns as the base of the burger and lair on steak, bacon, Enokitake mushrooms, Kim chi and top with rice patty bun.
Check out Harley's Video Diaries –
We have a #YouTubeGaming Channel:
Follow the guys!
@harleyplays @chefatari @epicgrossguy @cooldan @itsmikesantos
LIKE/FAVORITE and SHARE for new meals every week!
Bulgogi Burger – Handle It