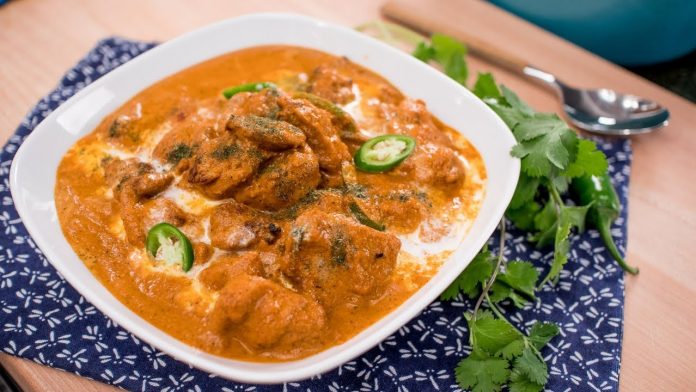 There is a very good reason why butter chicken is one of the most loved Indian dishes: it's pretty darn delicious. Succulent marinated chicken steeped in a rich and creamy tomato sauce, fragrant with warm spices. There's actually not much actual butter in it, but there is a ton of cream which is what makes it so indulgent.
I had wanted to make this dish for a long time but never did because for some reason, I felt like it was gonna be a complicated dish. It turned out not to be true at all. Sure, the ingredient list is pretty long, but if you've got a well stocked spice cabinet, you'll have most things already. The best thing is that butter chicken is a very forgiving dish with lots of room to adjust according to your taste, and there is no special technique required.
Here's how I suggest going about this to make it even more effortless: split it into 2 days. You can either marinade the chicken and make the sauce the day before serving (the sauce keeps very well in the fridge or freezer), or marinade and cook the chicken off on day 1, and make the sauce and assemble the next day. I find that with a little planning, it makes this so much easier than trying to do it in one go.
WATCH ALSO: Indian Eggplant Curry (Baingan Bharta):
INGREDIENTS & KITCHEN TOOLS I USE:
WRITTEN RECIPE:
SUPPORT THE SHOW:
MY COOKBOOK:
CONNECT WITH ME!
—————-
About Pai:
Pailin "Pai" Chongchitnant is the author of the Hot Thai Kitchen cookbook, co-host of a Canadian TV series One World Kitchen on Gusto TV, and creator and host of the YouTube channel Pailin's Kitchen.
Pai was born and raised in southern Thailand where she spent much of her "playtime" in the kitchen. She traveled to Canada to study Nutritional Sciences at the University of British Columbia, and was later trained as a chef at Le Cordon Bleu culinary school in San Francisco.
After working in both Western and Thai professional kitchens, she decided that her passion really lies in educating and empowering others to cook at home via YouTube videos, her cookbook, and cooking classes. She currently lives in Vancouver, and goes to Thailand every year to visit her family. Visit her at