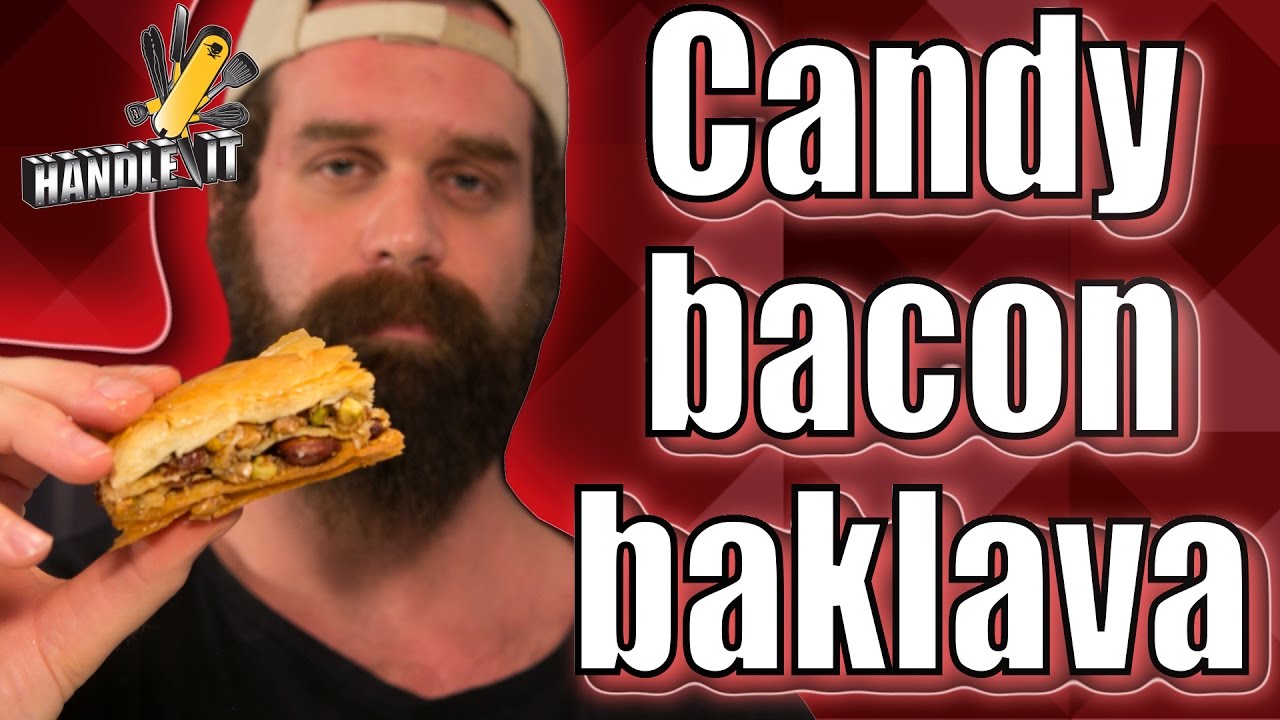 Harley teaches you how to go in and make some Candy Bacon Baklava! A delicious treat for all!
Tools/Ingredients/Steps
Tools
1 Frying pan
1 Knife
1 Cutting board
1 Oven tray
1 Food processor or 1 Mallet to crush nuts
1 4 inch baking tray
Parchment paper
Steps + Ingredients
Step 1
Bring to a boil 3/4 cup of water then dissolve 3/4 cup of sugar, 1/2 cup of honey and 1 Tsp of vanilla extract. Mix well, then refrigerate.
Step 2
Roast nuts in the oven at 350 degrees Fahrenheit for 10 minutes. Once nuts are roasted blend on pulse in a food processor lightly or crush with a hammer and a zip lock bag.
Step 3
Cut bacon into bits, and cook in a frying pan on medium heat for 10 minutes. Once the bacon is cooked add 1/2 cup brown sgar, 1 Tbsp of cinnamon and roasted nuts then mix well.
Step 4
Butter the bottom of the baking tray, and then add 10 sheets of phylo dough buttering between each layer lightly. On the tenth layer add candy bacon and nut mixture evenly then top with 3 sheets of phylo buttering between each layer, repeat this 3 times. Once you have 3 layers of candy bacon nut mixture top with 10 layers of phylo dough buttering between each layer. Cut your baklava into squares then bake at 350 degrees for 40 minutes.
Step 5
Top with honey sauce and serve.
Check out Harley's Video Diaries –
We have a #YouTubeGaming Channel:
Follow the guys!
@harleyplays @princewallick @lemme_kno @epicgrossguy @cooldan @santos_mtl
LIKE/FAVORITE and SHARE for new meals every week!
And order the COOKBOOK from any of these links:
Amazon: …
B&N: -…
BAM: …
iBooks: …
Need tools to cook with? Order the cooking arsenal:
Candy Bacon Baklava – Handle It