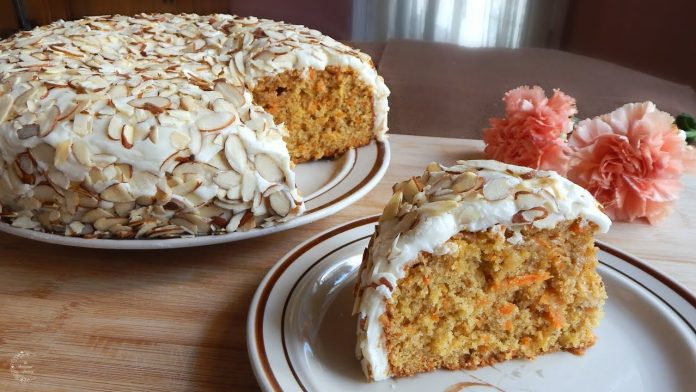 Learn how to make carrot cake from scratch covered with a delicious cream cheese frosting and almonds.
Cream Cheese Frosting Recipe:
Ingredients:
3 Cups All Purpose Flour (420g)
1 1/2 Cups Sugar (285g)
2 Teaspoons Baking Powder (10g)
2 Teaspoons Ground Cinnamon (5.2g)
1/2 Teaspoon Baking Soda (2.5g)
1/2 Teaspoon Salt (3g)
5 Eggs, Slightly Beaten
1 Cup Corn or Vegetable Oil (240ml)
3 Cups Carrots, Grated (330g)
1 Cup Ground Pineapple, drained (225g)
1 Cup Chopped Almonds (100g)
2 Cups Cream Cheese Frosting
1 Cup Sliced Almonds (100g)
Directions:
1. In a large bowl, whisk together the flour, sugar, baking powder, cinnamon, baking soda, and salt. Add the beaten eggs and stir until combined. Gradually stir in the oil until well moistened. Fold in the carrots, pineapple, and chopped almonds. Stir until well combined.
2. Pour the batter into a 10 in. cake pan lined with parchment paper. Bake in a preheated oven at 350°F for 40 to 45 minutes, or until an inserted toothpick comes out clean.
3. Let cake stand in pan for 15 minutes then remove to a wire rack and let cool completely. Spread a layer of the cream cheese frosting over the cake. Gently press the sliced almonds onto the sides and top of the frosted cake.
| Makes one 10 inch round cake.
| ↪ Connect With This Channel | ☕
Facebook –
Tumblr –
Twitter –
| Personal Accounts | 🌱🐈
Instagram –
Twitter –