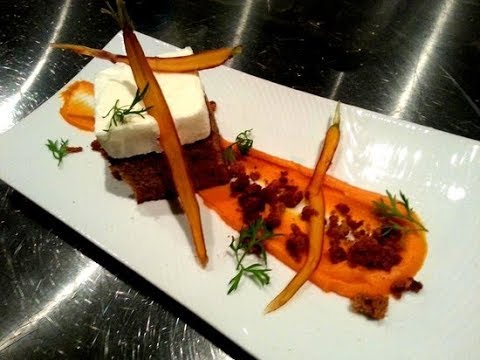 KHANA KHAZANA is a cookery channel.WE(I , MY MOTHER , SISTER)cook at home and make videos of my recipes which are very easy. I explain everything in Hindi.If u also want recipes in English language. So you should Subscribe to my channel to keep yourself updated about my videos 🙂
Follow me on Facebook :
Follow me on instagram :
You like carrot or not you will like this carrot cake. It's soft and moist, you don't really taste carrot in it. Orange flavor goes very well with it, This is my own recipe and this is how I like my carrot cake. but if you want to use vanilla, cinnamon, almond you certainly can. Although I strongly recommend that you try the way it is.
Ingredients:
250g all purpose flour (1 3/4cups-pressed into the cup)
350g finely grated carrot(2 cups -pressed into the cup)
200g sugar(1 cup)
4 eggs
11/2 tsp baking powder
1tsp baking soda
1/2 tsp salt
180ml oil(3/4 cup)
1tbsp orange juice
3tbsp orange zest
2tbsp raisin
pan size: 20cm x 6cm (8″ x 2″)
baking time: 170°C(340°F) for 90mins(10mins more or less)
Method:
1. coarsely grate carrot in a food possessor
2.sift flour baking powder and baking soda together
3. in a big bowl beat egg sugar salt orange juice and zest until pale
4.add oil slowly and beat
5. gently fold in flour add
6.mix carrot
7.pour the batter in a parchment paper lined baking pan
8. sprinkle raisin on top then bake
Notes:
1.Do not over mix the batter
2.keep an eye during baking. if you see the top is burning, place an aluminium foil on top as soon as you get a nice brown colour.
3. baking time could be more or less 10- 15 mins. insert a toothpick in the middle of the cake to check. if it comes out clean it's done. If batter sticks on it bake few more minutes.