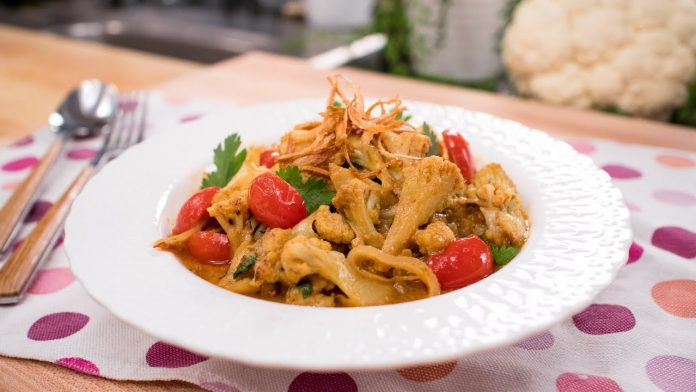 This flavour-packed recipe is delicious as vegetable side dish, but it's also robust enough to be a vegetarian entree! Cauliflower is seared to develop a more intense flavour, then stir-fried in a Thai yellow curry paste that is the most perfect flavour match with this healthy vegetable. Tart tomatoes offer pops of brightness…it's really a stunning dish that is incredible quick and easy to make.
Note: I use fish sauce in the recipe, but to make it vegetarian/vegan, simply use soy sauce or salt instead 🙂
YELLOW CURRY PASTE RECIPE:
INGREDIENTS & KITCHEN TOOLS I USE:
WRITTEN RECIPE:
SUPPORT THE SHOW:
MY COOKBOOK:
CONNECT WITH ME!
—————-
About Pai:
Pailin "Pai" Chongchitnant is the author of the Hot Thai Kitchen cookbook, co-host of a Canadian TV series One World Kitchen on Gusto TV, and creator and host of the YouTube channel Pailin's Kitchen.
Pai was born and raised in southern Thailand where she spent much of her "playtime" in the kitchen. She traveled to Canada to study Nutritional Sciences at the University of British Columbia, and was later trained as a chef at Le Cordon Bleu culinary school in San Francisco.
After working in both Western and Thai professional kitchens, she decided that her passion really lies in educating and empowering others to cook at home via YouTube videos, her cookbook, and cooking classes. She currently lives in Vancouver, and goes to Thailand every year to visit her family. Visit her at