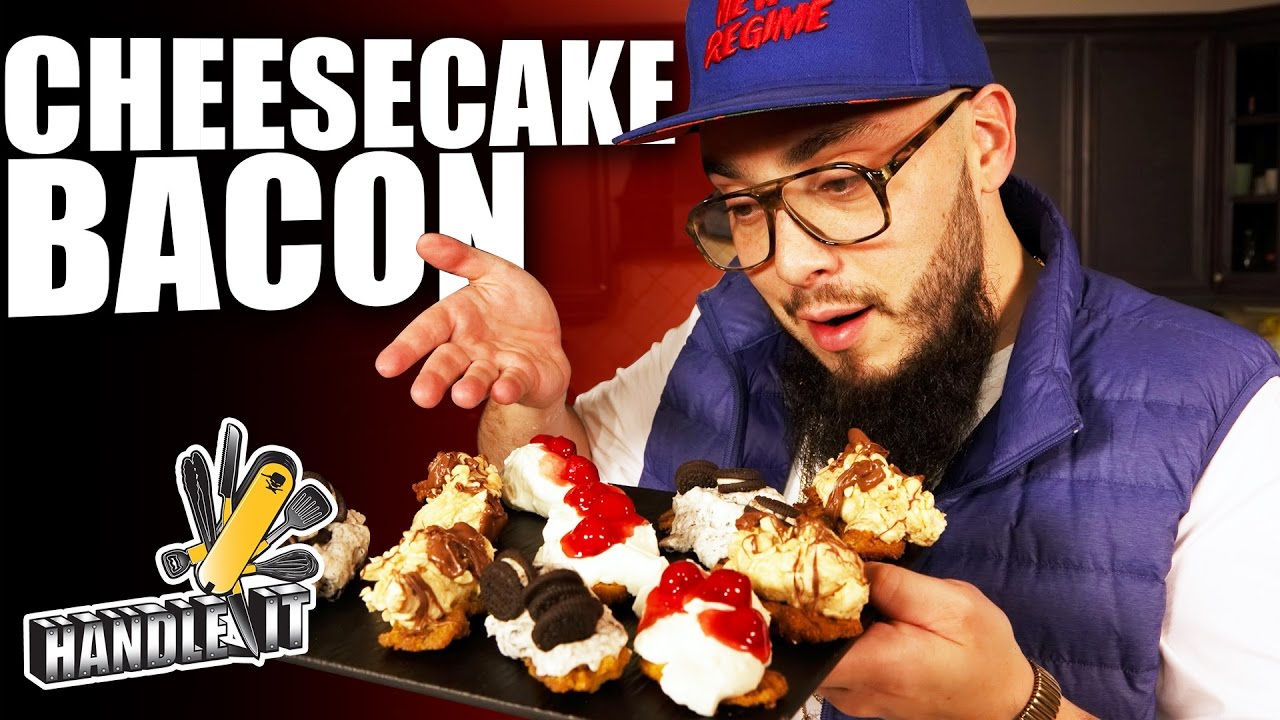 Lemme Kno teaches you how to make Cheesecake Bacon. It is one of the most delicious creations to ever come out of this kitchen!
Here is the list and ingredients:
Ingredients
2 Cups graham cracker crust
1 Pack of bacon
1 Cup peanut butter
1 Box of mini oreos
1 Cup of cherry pie filling
Vegetable oil for deep fry
3 Eggs
2 Cups of chocolate chips
1/2 Cup crushed nuts
Filling
2 Packages of cream cheese
2 Cups of powdered sugar
2 Cups of heavy cream whipped
2 Tsp of vanilla extract
Tools
2 Small sauce pans
Cake Spatula
1 Oven tray
3 Mixing bowls
Parchment paper
1 Chef knife
1 Cutting board
1 Wooden spoon
1 Electric mixer
1 Metal slotted spoon/1 Pair metal tongs
1 whisk
Step 1
Cut bacon strips in half then line a tray with parchment paper and cook in the oven at 380 F for 15 to 20 minutes.
Step 2
In 2 Mixing Bowls prepare egg wash and graham cracker crumbs. Begin to dip the bacon strips in the egg wash, and then coat with graham crumb. Repeat this step for all bacon strips.
Step 3
Heat up vegetable oil in a small sauce pan to 330 F then deep fry the bacon strips for 1 to 2 minutes. Once deep fried set aside and let cool.
Step 4
In a mixing bowl add cream cheese, powdered sugar and vanilla extract mix with your hands until smooth. With an electric mixer whisk heavy whipping cream Until thick then add it to the cream cheese.
Step 5
Separate the cheese cake filling into 3 bowls. Add peanut butter to one one cream cheese mixture and mix well. Crush mini oreos and add to the cream cheese mixture and mix well. For the third cream cheese mixture leave as is and refrigerate all 3 mixtures for 10 minutes.
Step 6
In a small sauce pan boil water and place a metal mixing bowl on top then add chocolate chips and melt stirring constantly keep on simmer.
Step 7
Add cream cheese mixtures to bacon crust.
Build
For the classic cream cheese mixture add cherry filling on top then refrigerate.
For peanut butter cream cheese mixture sprinkle on crushed peanuts and Use a back end of a spoon to drizzle on melted chocolate then refrigerate.
For oreo cream cheese mixture garnish with mini oreos the refrigerate.
Serve in 10 minutes.
Check out Harley's Video Diaries –
We have a #YouTubeGaming Channel:
LIKE/FAVORITE and SHARE for new meals every week!
And order the COOKBOOK from any of these links:
Amazon: …
B&N: -…
BAM: …
iBooks: …
Need tools to cook with? Order the cooking arsenal:
Cheesecake Bacon – Handle It