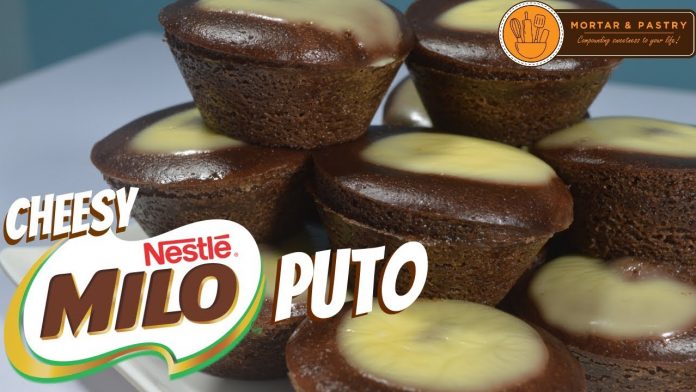 This chocolate puto recipe infused with the flavor of milo just came out perfectly great! I used a quick melt type of cheese so that it will melt completely and spread over the top of each puto. It just makes every bite deliciously cheesy!
Ingredients:
2 cups all purpose flour
2 tablespoons baking powder
1 tsp salt
1 cup sugar
3 tablespoons cocoa powder
2 packs of 22g milo
1 can (370mL) evaporated milk
¼ cup melted butter
2 egg whites
Easy melt cheese
• This recipe makes 20 large puto or 40 small puto
• Grease molds with melted butter for easy removal of puto once cooked
• You can also use regular cheese if you prefer
COSTING:
Flour – 20
Milo – 14
Sugar – 8
Other dry ing. – 15
Evap – 28
Butter – 12
Egg whites – 12
Cheese (only half will be consumed) – 26
TOTAL PRODUCTION COST = 135php (adjust the price for the packaging you will use)
YIELD = 20 large puto / 40 small puto
COST PER PIECE = 6.75php
SELLING PRICE PER PIECE = 12php
We would love to see your works! Please tag us on Instagram and Facebook @mortarandpastry or use the hashtag mortarandpastry and show us your creations!
LIKE, COMMENT, SHARE & SUBSCRIBE!
LET'S CONNECT!
SUBSCRIBE TO OUR CHANNEL:
FACEBOOK:
INSTAGRAM:
CHECKOUT SOME MORE M&P RECIPES!
Trending NO BAKE CHOCOLATE DREAM CAKE!
Trending MILO CAKE!
MILO ICE CREAM RECIPE:
CONDENSED MILK BUTTERCREAM RECIPE:
BOILED ICING:
NO BAKE YEMA CAKE RECIPE:
MINI CHEESECAKE RECIPE:
BLACK FOREST CAKE FLOAT RECIPE:
MUSIC:
-Bright wish
Bright Wish by Kevin MacLeod is licensed under a Creative Commons Attribution license ()
Source:
Artist:
-Wishful thinking
-Nitpicky picnic
-Parkside