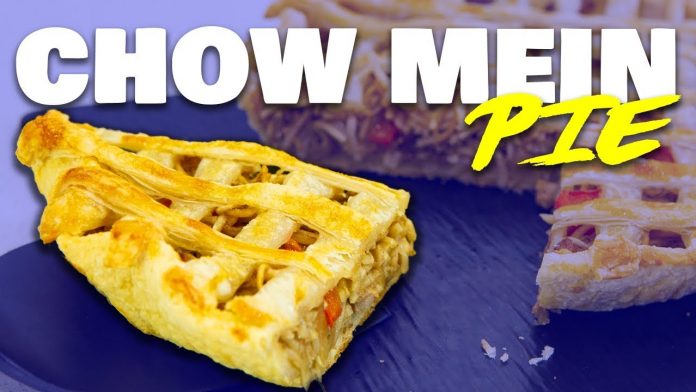 This week Ameer teaches you how to make a classical looking pie, but it's filled with Chicken Chow Mein! This is the Chicken Chow Mein Pie!!!
Ingredients
Egg roll dough
1 Egg
1/2 Cup of cold water
1 Tsp salt
2 Cups if flour
1 Jar of chow mein sauce
1 Pack of chow mein noodles
3 to 4 chicken thighs
1/2 Cup of onion slivers
1/2 Cup of red pepper slivers
1 Tbsp of minced garlic
Oil for deep frying
1 Sheet of puff pastry
1 Egg
Tools
2 Mixing bowls
2 aluminum pie trays
2 Large pots
1 Frying pan
1 Chef knife
1 Cutting board
1 Pair of metal tongs
1 Metal slotted spoon
1 Brush
1 Wooden spoon
Step 1
In a mixing bowl add 1 egg, 1/2 cup of cold water, 1 tsp of salt and 2 cups of flour then mix well until a dough forms. Flour a surface then roll dough out into a circle then place in a pie tray and freeze for 15 minutes.
Step 2
Cook noodles in boiling water for 3 to 5 minutes until tender.
Step 3
Cut chicken thighs into small pieces then marinate in chow mien sauce for 10 minutes.
Step 4
Heat a pan with oil and fry 1 Tbsp of minced garlic for 30 seconds then add chicken and cook until the exterior is white. Add onions and red peppers then cook until tender. Add noodles and bean sprouts with more chow mein sauce and cook for 2 minutes mixing all ingredients together to cover in sauce.
Step 5
Heat oil in a large pot to 350 degrees Fahrenheit then deep fry egg roll pie crust for 30 seconds each side and remove from oil and place in pie tray immediately to form.
Step 6
Fill pie crust with chicken chow mein. Cut pie dough into then strips then top the pie forming the lattice crust and brush with egg wash. Bake In the oven for 25 minutes. Once baked let sit for for 10 minutes.
Check out Harley's Video Diaries –
#YoutubeCooking #Cooking #Food #Recipes
We have a YouTubeGaming Channel:
Follow the guys!
@harleyplays @chefatari @epicgrossguy @cooldan @itsmikesantos
LIKE/FAVORITE and SHARE for new meals every week!
Chicken Chow Mein Pie – Handle It