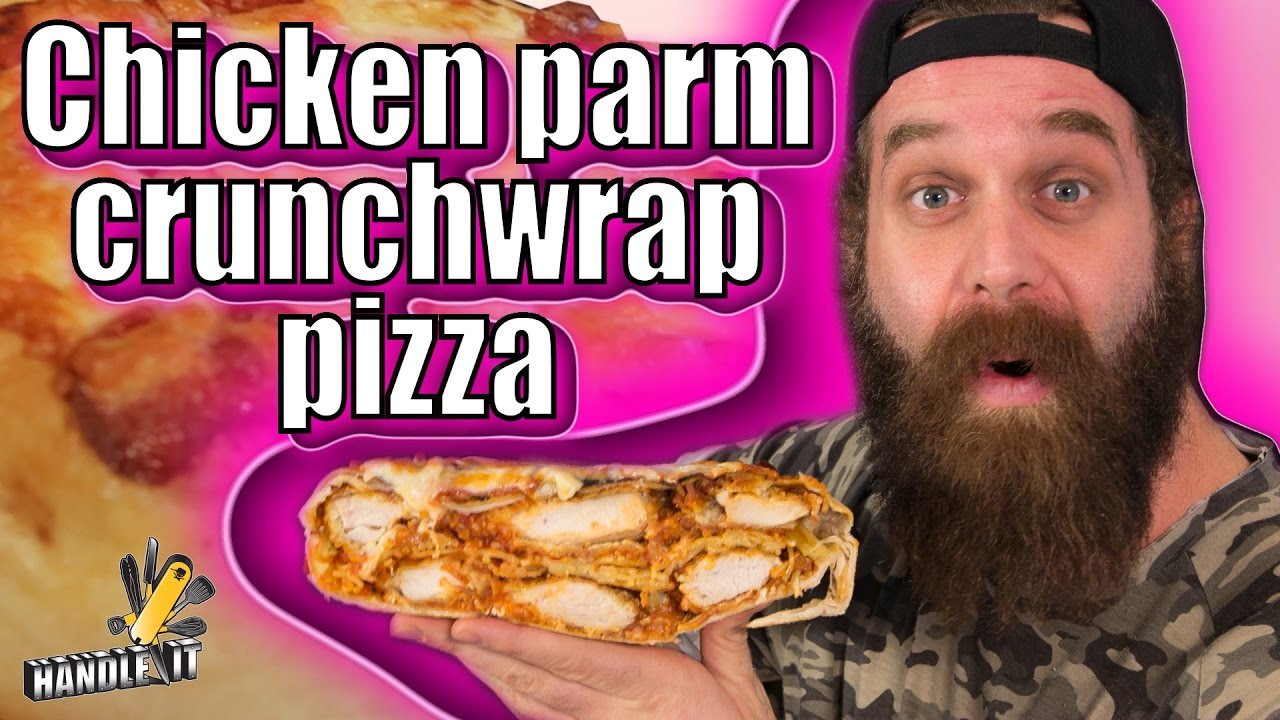 Ingredients
6 Flour tortillas
10-12 Chicken filets
3 Cups shredded mozzarella cheese
1 Cups of Parmesan cheese
2 Cups of marinara sauce
1/2 Pack of spaghetti noodles
1/4 Cup of pepperoni
4 Eggs
1 Bag of ruffle mozzarella cheese sticks
2 Cups of flour
Vegetable oil for deep fry
Tools
1 Chef knife
1 Cutting board
1 Cast iron pan
2 Large pots
1 Pizza pan
3 Mixing bowls
1 Frying pan
1 Food processor (optional)
Tooth picks
Step 1
Boil a large pot of water, and cook spaghetti noodles for 10 to 15 minutes until tender. Once the noodles are cooked, mix with 1 egg, and let sit.
Step 2
With a food processor, or your hands crush the chips up and use them as bread crumbs.
Step 3
In 3 Mixing Bowls prepare flour, crushed chips and egg wash. Begin dipping chicken breast in egg wash, and then in flour. Dip chicken breast back into egg wash and coat with crushed chips. Repeat this process for the rest of the chicken breasts.
Step 4
Heat oil to 335 degrees Fahrenheit and begin deep frying the chicken breast until all chicken is cooked.
Step 5
Oil, and heat up a frying pan on medium to high heat, and fry spaghetti flattening it, forming a disc shape. Do this for 4 minutes on each side.
Step 6
Oil the cast iron pan, and lay flour tortillas down covering the base of the pan. Begin layering with chicken breasts, marinara sauce, mozzarella cheese and Parmesan cheese. Place fried spaghetti noodles on top and repeat first layer. Cover with a tortilla, then begin folding the bottom tortillas over securing in place with toothpicks, then bake in the oven at 400 degrees Fahrenheit for 15 minutes.
Step 7
After 15 minutes flip crunch wrap on to a pizza tray and top with marinara sauce, mozzarella cheese and pepperoni then bake for an additional 10 to 15 minutes.
Check out Harley's Video Diaries –
We have a #YouTubeGaming Channel:
Follow the guys!
@harleyplays @princewallick @lemme_kno @epicgrossguy @cooldan @santos_mtl
LIKE/FAVORITE and SHARE for new meals every week!
And order the COOKBOOK from any of these links:
Amazon: …
B&N: -…
BAM: …
iBooks: …
Need tools to cook with? Order the cooking arsenal:
Chicken Parm Crunch Wrap Pizza- Handle It