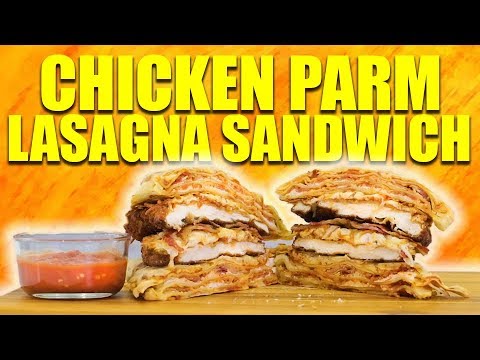 This week Harley teaches you how to make a Chicken Parm Lasagna Sandwich, and it's very very delicious!
Ingredients
1 Pack of bacon
1 Can of tomato sauce
3 Sheets of lasagna
2 Cups of ricotta cheese
3 Cups of mozzarella cheese
2 Cups of flour
2 Cups of bread crumbs
3 Eggs
Vegetable oil for deep fry
1/2 Cup of Parmesan cheese
Batter
1 Cup of flour
1 Cup of buttermilk
1/4 Tsp baking powder
1/4 Tsp baking soda
1 Tsp Salt
Tools
2 Oven trays
Parchment paper
Tin foil
1 Frying pan
1 Pair of metal tongs
1 Cutting board
3 Mixing and
1 Chef knife
1 Whisk
Step 1
Use a pack of bacon to cook bacon bits in a frying pan on medium heat for 10 minutes and bacon strips on an oven tray lined with parchment paper baked at 375 degrees Fahrenheit for 18 minutes.
Step 2
Line an oven tray with parchment paper and lay down a thin layer of tomato sauce. Cut your lasagna sheets in half then begin to layer four sheets with ricotta cheese, bacon bits, mozzarella cheese and tomato sauce then stack two on top of each other twice. For the final 2 lasagna noodles layer with tomato sauce and mozzarella cheese then place on top of the first two layers and place on the oven tray covered with tin foil then bake at 350 degrees Fahrenheit for 1 hour. Once the lasagna is baked cut of the edges and refrigerate for 20 minutes.
Step 3
Prepare a dredging station with flour, breadcrumbs and egg-wash. Flour chicken breast then dip in egg-wash and coat in bread crumbs. Heat enough vegetable oil to cover the base of a frying pan then begin to shallow fry the chicken breast for 4 minutes each side.
Step 4
Once the chicken breast is cooked place on an oven tray then layer each chicken breast with tomato sauce, mozzarella cheese and Parmesan cheese then bake in the oven on a low heat for 5 to 10 minutes.
Step 5
In a mixing bowl add 1 Cup of buttermilk, 1 Cup of flour, 1/4 Tsp of baking powder, 1/4 Tsp of baking soda, 1 Tsp of salt and mix well. Dip lasagna buns in batter then bake in the oven at 425 degrees Fahrenheit for 20 minutes.
Step 6
Use one lasagna bun as the base then layer bacon strips, chicken Parmesan, bacon strips and top with second lasagna bun.
Check out Harley's Video Diaries –
We have a #YouTubeGaming Channel:
Follow the guys!
@harleyplays @chefatari @epicgrossguy @cooldan @itsmikesantos
LIKE/FAVORITE and SHARE for new meals every week!
Chicken Parm Lasagna Sandwich – Handle It