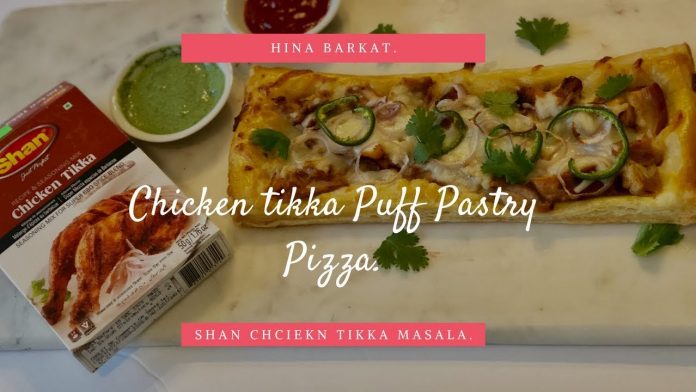 Chicken tikka is one of my favorite recipes to make. You can make Chicken tikka so many different style. I made chicken tikka puff pastry pizza. Puff pastry Chicken tikka pizza is super light and crispy. Perfect for appetizer or tea time snack. Try this delicious Chicken tikka puff pastry pizza.
Ingredients:
I pack Puff Pastry dough.
4 Pieces of Chicken Thigh.
1 pack Shan Tikka Masala mix.
1 Lemon.
Mozzarella Cheese.
Shallots.
Green chili pepper.
1 Egg.
Recipe:
Thaw the pastry sheet at room temperature for 40 minutes before using it.
Clean and make cuts into chicken thighs. In a bowl squeeze fresh lemon juice. Add 2 tbsp shan tikka masala. Mix it well. Add 1 tbsp oil and mix. Add the chicken pieces and mix well. Marinate for 1-2 hours.
In a grill pan add oil. Add the chicken pieces and cook. Cover and cook for 5-7 minutes on both sides. Or until the chicken is done.
Once it's cooked cut it into bite size pieces.
Unfold the puff pastry sheet on lightly floured board. Cut it into 3 pieces. Roll out each pieces to desire length. I like rectangular.
Brush the edges with egg wash. (Beat 1 egg and add little bit water in it)
Add chicken, cheese, shallots, green chili.
Preheat the oven on 400 F. Bake for 20-25 minutes. Add fresh cilantro. Enjoy.
Follow Me:
Follow Me:
www.
Follow Me:
Follow Me:
www.
Follow Me:
www.