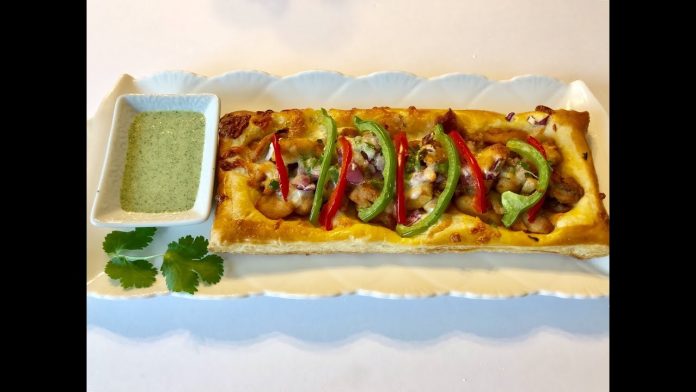 Thank you so much for watching. Please subscribe to my channel. Like this video and share it.
Ingredients:
1 lbs boneless Chicken thighs.
2 tbsp Shan Chicken tikka mix.
Lemon.
1 Puff Pastry Sheet.
1 Egg.
Red Onion.
Green Chili pepper.
Mozzarella.
Green bell pepper.
Red bell pepper.
Recipe:
Cut the boneless thighs into bit size pieces. Add shan tikka mix and oil on the chicken pieces. Marinate the chicken for an hour. You can grill, bake or fry. We fried the chicken.
In a pan add and chicken. Fry for 5-7 minutes on both sides.
Though the pastry dough according to the package. Once it ready roll it out. Cut into 3 rectangular pieces.
Roll out each rectangular. Using a tip of the knife. Make the light cute around the the whole pizza. Brush the ends with the egg wash.
Add cooked chicken, cheese, red onion, green chili pepper, bell pepper, green bell pepper. You can whatever toppings you want.
Pre heat ove to 400 degrees. Bake for 20 minutes. Enjoy.
Follow Me:
Follow Me:
www.
Follow Me:
Follow Me:
www.
Follow Me:
www.
Disclaimer: This video is not sponsored.