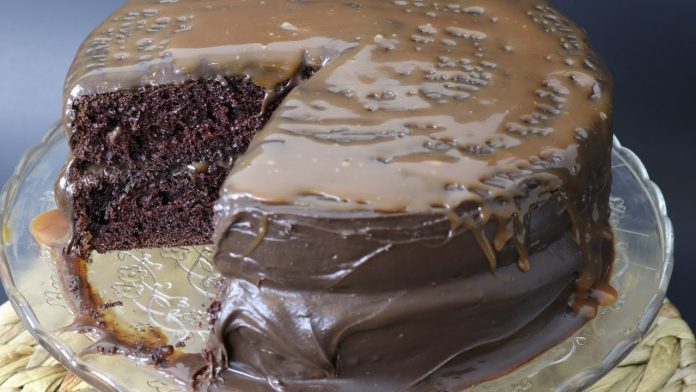 Chocolate Cake Recipe and Chocolate Ganache With Salted Caramel
Thanks for watching! Don't forget to push "LIKE," leave a COMMENT below, and SUBSCRIBE! Feel free to SHARE this video too.
———————————————————————————————————–
INGREDIENTS
Ganache:
• heavy cream 5 Oz (150 ml)
• dark chocolate 9 Oz (250g)
• butter 3 tbsps (40g)
Chocolate Cake:
• 1/2 cup vegetable oil
• 1 cup granulated sugar
• 1 cup brown sugar packed
• 5 large eggs
• 1/2 cup sour cream
• 2 teaspoons pure vanilla extract
• 2 cup all-purpose flour
• 3/4 cup unsweetened cocoa powder
• 1 1/2 teaspoons baking soda
• 1 teaspoon baking powder
• 1 teaspoon kosher salt*
• 1 cup warm water
———————————————————————————————————–
FOLLOW ME
✔ Facebook Page –
✔ Instagram –
✔ Pinterest –
———————————————————————————————————–
ABOUT MIRIAM'S CUISINE:
Hi,
My name is Miriam and I am a working mom of two little princesses. I have a passion for good food and I love spending time in the kitchen cooking and baking. Food has an amazing power of bringing families, friends and loved ones together.
I strongly believe that good food doesn't have to be complicated; that's why I decided to create my channel, to share with you some yummy and easy to follow sweet and savory recipes.
I hope you will enjoy my recipes and you will try them in your own kitchen, and I will be more than happy to read your comments on how they turned out.
Subscribe to my channel and join me for a new recipe everyday… let's make some magic in our kitchens!!
WANT TO WORK WITH ME?
? Contact
info@miriamscuisine.com
? Shipping Address
Miriam
137-1140 Burnhamthorpe Rd W, Box 194
Mississauga, ON L5C 0A3
CANADA
———————————————————————————————————–
FILMING EQUIPMENT USED:
Canon DSLR Camera [EOS 80D] –
Kitchen Essentials List Equipment available on Amazon US
Food Processor – Robots
Thermomix TM5
Kitchenaid
Kitchenaid
Chef's Knifes
Cutting Board
Measuring Cups and Spoons
Kitchen Shears
Colander
Can Opener
Mixing Bowls
Grater
Whisk
Rolling Pin
Saucepans
Sauté Pan
Skillet
Baking Sheet
Roasting Pan
Dutch Oven
Cooling Rack
Flatware
Plates
Bowls
Glasses
Mugs
Salad Bowl
Serving Spoons
Wine Opener
*Disclaimer: This video is not sponsored, and all opinions are my own. I use affiliate links, which means that we earn a small commission from the brands. This helps support my channel so that we can continue to bring you useful and creative content. As a customer, prices are not affected whatsoever by the use of an affiliate link, so there is no cost to you, but help. If you would like to support my channel, thank you in advance, but otherwise, please feel free to search for anything mentioned on your own.
Thank You so much for your support!
HASHTAGS USED
#chocolatecake #easyrecipe #miriamscuisine